With seemingly endless landscapes of mountains, lakes and rugged wilderness to explore, the toughest decision when it comes to a camping in Glacier National Park is often "where to?"
The abounding beauty of Glacier means campers have plenty of options to choose from both in the park's front and backcountry. Here are just six of our favorite Glacier campgrounds beneath the Montana big sky.
Get the Glacier Experience at Apgar Campground
Located just over two miles into the park along the famous Going-to-the-Sun Road, Apgar Campground is Glacier's largest campground. But just because it's easily accessible doesn't mean it's any less spectacular, especially for those looking to experience much more than just camping during their visit.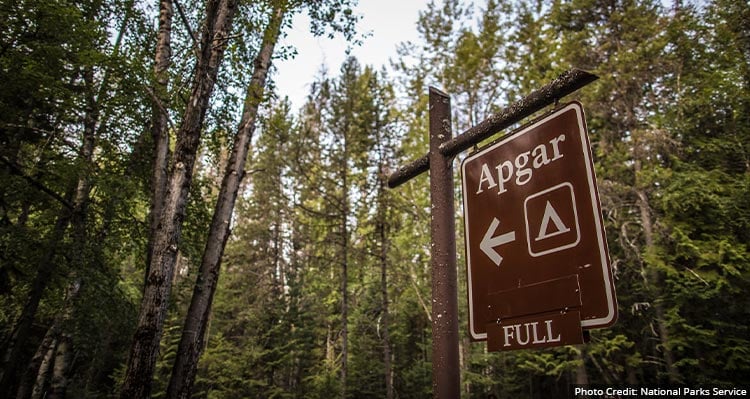 Thanks to its prime location near Apgar Village — home to a visitor center, casual restaurant, gift shops and more — the campground is also near places to book horseback riding and boat rentals. Lake McDonald is just a short stroll from the campground as well, allowing campers to get out on the water on kayaks, canoes and other crafts, or just enjoy the beautiful sunsets over the water.
Apgar welcomes both tent and RV campers, with features like showers, flush toilets and running water available during the summer season. Like many Glacier campgrounds, Apgar is first-come, first-serve, so head out early to reserve a spot. Or better yet, plan your visit in spring or fall to have a better chance at snagging a prime site.
Take a Hike to Granite Park Campground
If navigating dirt roads isn't wild enough for you, consider a hike-in spot like Granite Park campground, one of several backcountry destinations in Glacier. Located on the west side of the continental divide and north of the Going-to-the-Sun Road, the camping spot neighboring Granite Park Chalet is accessible only by trail.
There are a couple routes to get to Granite Park, including the wildflower-abundant Loop Trail or amongst waterfalls and panoramic views on the Swiftcurrent Trail. The most popular trek, however, is along the famed Highline Trail — a 7.6-mile walk along the Garden Wall. Panoramic views, rock formations and wildflowers are close to a sure bet on the trail, with sightings of wildlife like mountain goats, bighorn sheep and deer not uncommon as well.
Stay at Many Glacier Campground, Explore Beyond
Much like Apgar, this east Glacier camping destination is an ideal spot to use as a home base for a wide range of adventures nearby. Consisting of 109 sites, 13 of which can accommodate RVs up to 35 feet, Many Glacier Campground is surrounded by trailheads for hikers to take on, with the iconic Grinnell Glacier Viewpoint trail beginning just east of the campground.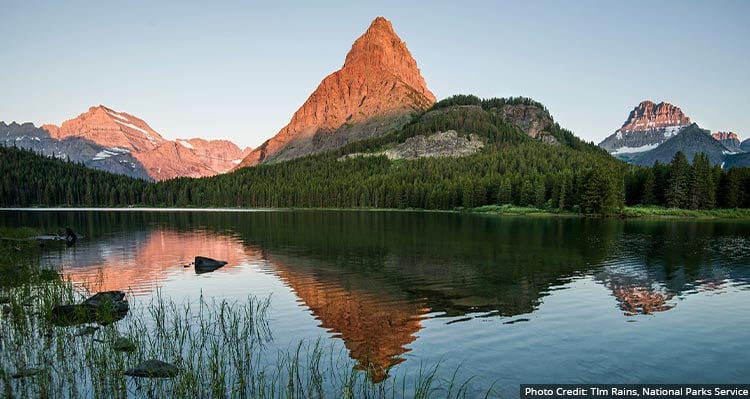 Many Glacier is one of the few campgrounds in Glacier that is currently reservation only, with 2021 fully booked up. Early planners, however, can scope the sites out for next year by taking a shuttle to the nearby Many Glacier Hotel from either Two Medicine or St. Mary Village and enjoying the area on as a day trip.
Get Comfortable at West Glacier RV Park
Located just steps from the west entrance of Glacier National Park is the West Glacier RV Park. This full-service spot offers all the creature comforts you might normally miss if you're camping, including free Wi-Fi, coin-operated laundry, modern restroom and shower facilities. Plus, each site has power, full hookups, a firepit and green space.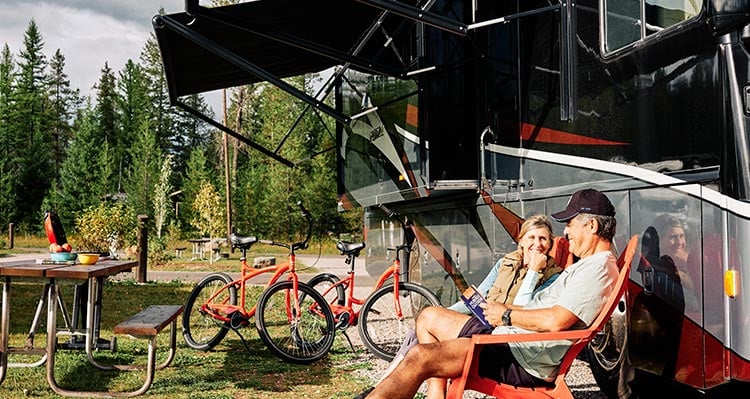 It's also conveniently located right behind West Glacier Village, so there's easy access to dining and shopping options. And don't miss Golfing to the Sun mini-golf course for some fun with the whole family.
Wake Up to a View in Two Medicine Campground
An early morning drive and a little luck may be required to snag one of Two Medicine Campground's creekside spots, though all spots offer views of both Pray Lake and the area's most massive peak, Rising Wolf Mountain. No matter where you find a spot to stay at this campground on Glacier's east side, you'll surely be in constant awe of the beauty all around.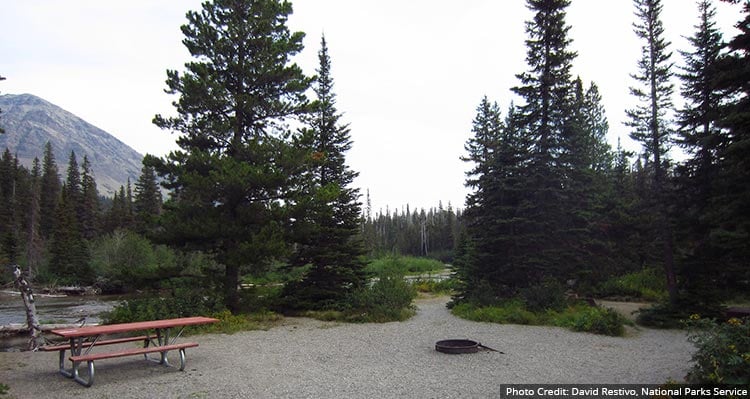 Although less visited than other areas of Glacier, Two Medicine is no less majestic. Wildlife like bighorn sheep and mountain goats, along with black and grizzly bears, are often spotted in the area. Those looking to hit the trails will also have plenty to choose from near Two Medicine, including the wheelchair-accessible Running Eagle Falls Trail.
Head Off the Beaten Path Towards Kintla Lake Campground
As Glacier's most remote front-country campground, Kintla Lake offers campers a chance to truly get in tune with nature. Traverse a scenic drive on dirt roads to get to the campground located just south of the U.S.-Canada border. Those who make the drive will find themselves setting up camp among beautiful views of shimmering waters, dense forests and some of Glacier's tallest peaks.
As a remote destination, careful packing preparation is recommended. Amenities are limited to a handful of basic features, such as pit toilets and a hand pump for potable water. The 13-site campground is also limited to tents-only due to the winding dirt roads, creating an even more serene and quiet spot to escape it all and get back to nature.
No matter where you set up camp in Glacier National Park, visit the National Park Service website to stay in-the-know about restrictions, closures, booking and more.