Things change slowly here in West Glacier—if they change at all. Since 1936, the little village next to the Middle Fork of the Flathead River has been helping people stock up, wind down, celebrate, recover and get inspired for living large in Glacier National Park.
Whether it's been an unforgettable drive on the Going-to-the-Sun Road, a float down the Flathead River or a multiday backpacking trip in the Crown of the Continent, the porch at Freda's in West Glacier is where you want to end your day.
Right next to the West Glacier Mercantile and the West Glacier Café, Freda's is one cool spot. Here are five things that make it so:
Freda herself. The legendary Freda Ostby began managing the bar at the West Glacier Mercantile in the 1940s. Born in 1916, Freda moved to Montana with her family in 1944 and claimed her spot in the heart of West Glacier. She had great friendships with "her boys"—the Glacier National Park trail crew and who always stopped by Freda's for a drink at the end of a long day. That was the beginning of a tradition that continues today.
The beer tap. They say a beer tastes best after a long summer day in the mountains. From the American classics (Pabst Blue Ribbon, Miller HighLife) to a rotating tap and regular tap takeovers with local microbreweries, you can explore your love for beer at Freda's. And if beer's not your thing, a Fireweed Mule with local cherry bourbon will definitely hit the spot!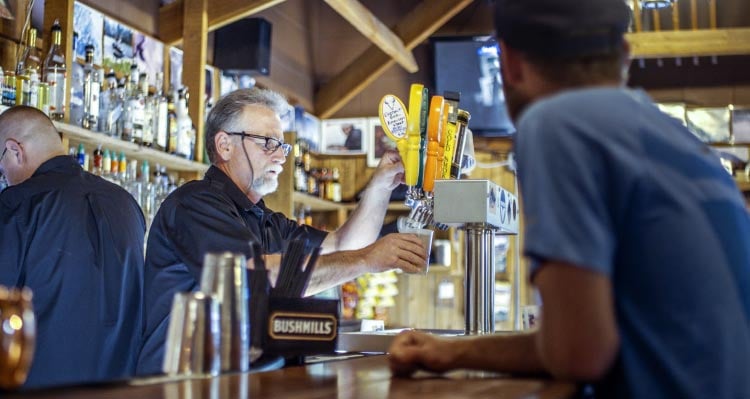 The porch at Freda's. This is a real informal place. There aren't official tables or chairs. It's more of a "find yourself something to sit on and settle in" kind of porch. It's also the perfect place to watch the world go by, to make new friends, to share stories of your day's adventure. Kick back and relax! If for some inexplicable turn of events, you prefer to be indoors, there's a pool table inside.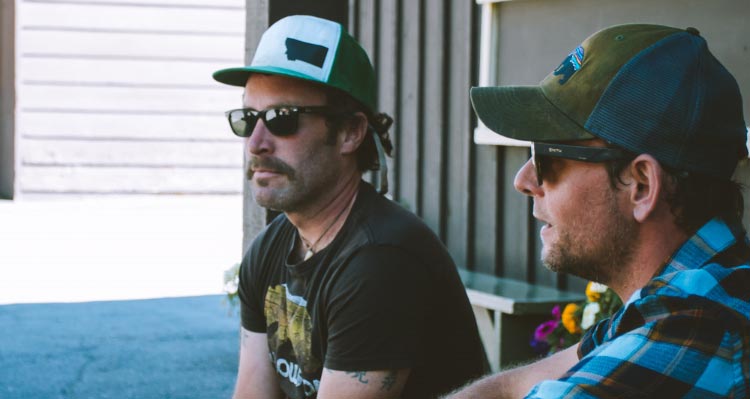 Old photos. If these walls could talk! Nearly every square inch of the walls of Freda's tells a story. Old photos of legendary adventures—think first ascents and first descents—are stacked all over the place. They show escapades dating back decades—wild mountain adventures are at the heart of Freda's. Freda's maintains a classically unpretentious "dive bar" feel—with barn board walls and low lighting. This place has got atmosphere!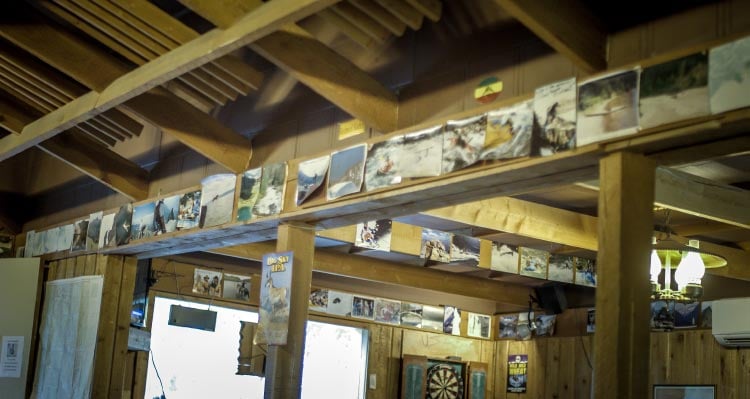 The characters. Freda's has always been the go-to spot for adventurers at the end of a day of living large in Glacier. Burly suntanned river guides having wrapped their final trip of the day, crisp park employees starting their days off, energized lodge staff fresh from a hike, tourists in the know, gentlemanly fly-fishermen—they all gather at the West Glacier Bar. This is where your day in West Glacier ends—with a cold drink and some good folk.