"From the mountains of Montana to your home."
For the team at Montana Woodworks, these are words to live by. Each hand-crafted piece of log furniture made at their workshop brings authentic Montana charm to its new home; whether that's across the world, across the country or just down the road.
When the team at St. Mary Village was bringing the Tiny Home Village to life, they embraced the old adage that good things come in small packages. The village was designed to capture the essence of Montana in a tiny home. The best way to do that, the team felt, was to bring a bit of Big Sky Country inside.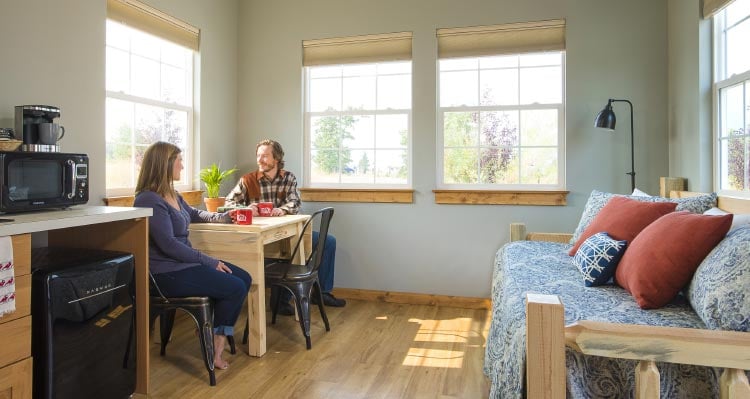 "I found myself doing quite a bit of research to acquaint myself with the tiny home 'culture' and looking for creative ways to maximize our space," says Kelly Boehm, one of the project leads for Pursuit's Glacier Park Collection. In her search for quality furnishings, Kelly came across Montana Woodworks and knew they would be a perfect match. The team jumped at the chance to forge a new relationship with a local partner.
And this particular partner was about as local as they come. "Montana Woodworks was formed right here on the West Kootenai area of Rexford, Montana back in 1991," says Derrick Smith, Account Manager. "We were excited to work with Kelly and her team. It's always special to work with folks from Montana."