"There are few hours in life more agreeable than the hour dedicated to the ceremony known as afternoon tea." - Henry James
Since Anna the Duchess of Bedford held the first afternoon tea sometime around 1840 – as a light meal to fill the gap between lunch and dinner – it's been a statement of fashionable relaxation and socialization ever since.

Today, the Prince of Wales honors this tradition with its own afternoon tea that features the best views in town in a relaxed and authentic environment. This hotel — now a National Historic Site — was built in Waterton in 1927 by the Great Northern Railway. Inspired by a Swiss mountain lodge and named for Britain's future King Edward VIII, the hotel shines with old world grandeur.
Here are just a few reasons why we love afternoon tea:
It's a great way to slow down. Just as the brewing process requires time, there's no rushing afternoon tea at the Prince of Wales Hotel. It's leisurely and relaxing to decelerate your day in the mountains.
The food. Having tasty little things to nibble on is essential. Tiny sandwiches (like prosciutto and arugula) are followed by pastries. Our chef creates biscotti dipped in white chocolate, mini cupcakes and lemon and Yorkshire curd tarts. And, of course, scones, which should be enjoyed with jam and cream, and always broken in half (never cut with a knife).

It helps you connect. And chat. And perhaps even indulge in some good old-fashioned gossip. Afternoon tea is as much about witty and thoughtful conversation as it is about warm beverages.
It honors the moment with old-fashioned good manners. Start your tea time with a pleasant greeting to your friends, perhaps even to those at the table next to you. Smile. Listen to some pleasing music. Nod politely. Follow the rules of tea etiquette and be proud to do so.
It allows you to unplug. Put away your devices as you approach the table for tea. Look around you, soak in the spectacular views of Waterton Lake. Take a deep breath. Then another.
The health benefits. From mental alertness to a renewal of the spirit, the health benefits of tea have been known for years. Findings have also shown tea to be a strong antioxidant, a promoter of lower blood pressure and a way to increase bone density!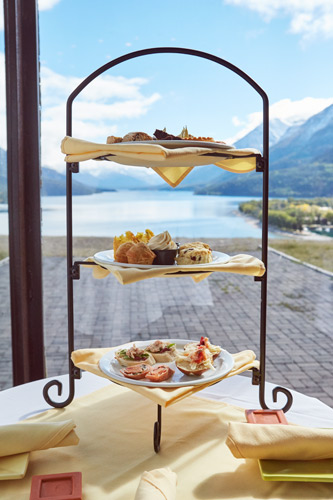 It's pretty. From the white linens to the three-tiered platter, sophistication elevates the moment during afternoon tea. At the Prince, we proudly serve the handcrafted and luxurious blends from Tea Forte.
It fuels you for adventure. Tea time counters what Anna, Duchess of Bedford, called that "sinking feeling" during the long gap between lunch and dinner. In Waterton, summer days are long. Post-tea, head out for a hike, bike ride or boat cruise. Dinner can wait!
Tip: How to stir your tea. Yes, there's a right way to do it. Or perhaps a "proper" way. Milk should always be added after the tea is poured and stirred back and forth. Stir up and down (6 o'clock to 12 o'clock), not circular. No clinking the spoon against the cup. Stir slowly!