Is 2021 the year you really get outside, try something new, and explore further? We say heck yes! It's time to break the mold and see what you can do in the great outdoors. Check out these new #travelgoals for adventuring in Whitefish, Montana, and make this your year of yes.
Ice Climbing
Ice climbing is a wild way to be outside and see things from a totally new perspective. It's now easier than ever to try out ice climbing through accessible training, fun and knowledgeable guides, and equipment you can borrow from your guide crew.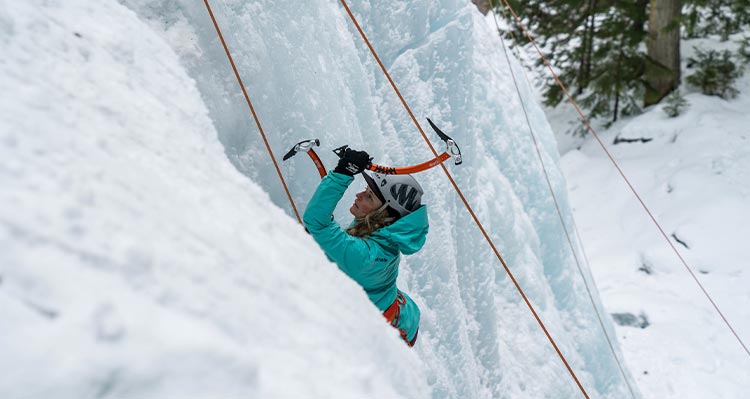 Is climbing on frozen water actually fun? If you like to get up high for a sweet view, challenge yourself physically, and see what a frozen waterfall looks like close up, then yes—ice climbing is a hoot.
Where do we go for this?
Chat with Glacier Adventure Guides or Whitefish Vertical for simple half-day beginner trips where they'll teach you everything you need to know, or if you're experienced, sign up for a more strenuous full-day venture.
Snowmobiling
An easy, exhilarating way to explore outside, snowmobiling truly is for everyone. Some companies offer tours from the top of Whitefish Mountain Resort to capture epic views of Glacier National Park. Anywhere you go will be a wild ride.
Do I want to zoom across snowy fields? In a word, yes. Snowmobiling is fun, fast, and free-spirited—but also safe with good guides who know the local area and have the right equipment.
How do I sign up? Whitefish Marine offers sweet half-and full-day tours that will have you booking for next year before your trip is over.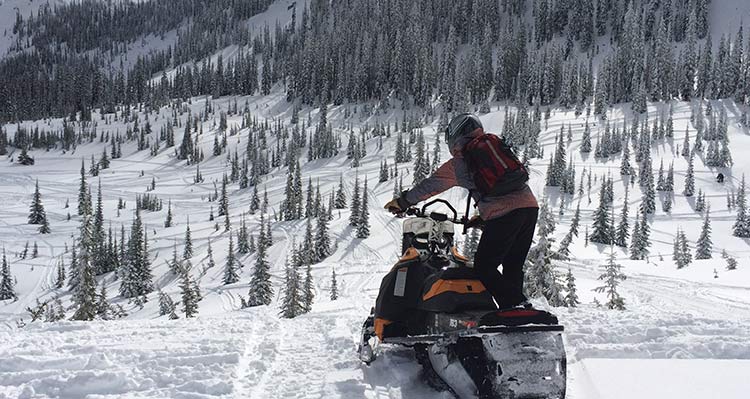 Cross Country Skiing
Winter fun for many people means getting a little exercise and enjoying some solitude. We've got just the thing—Whitefish has groomed cross country ski trails in town at the Glacier Nordic Center, up near the ski hill at the Big Mountain Trails, and just out of town on Forest Service trails at Round Meadow.
Why go for self-propelled snow travel?
Good vibes, a workout, and appreciating nature in calm, quiet surroundings are all big draws for cross country skiers. If you've never gone before, give it a shot—we bet you'll like it!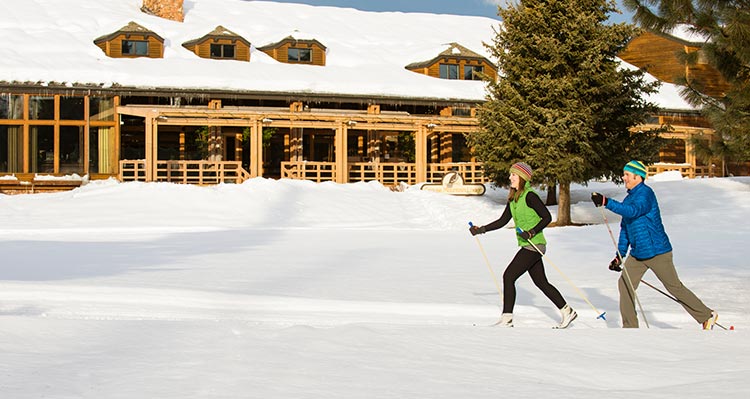 How do we try it out?
Rent your skis at Glacier Cyclery & Nordic or Sportsman Ski Haus and pop over to the Glacier Nordic Center for flat, groomed trails adjacent to Grouse Mountain Lodge. Or check out Whitefish Trails for some hill workouts.
Fat Biking
Fat biking is relatively new to winter sports but it's perfect for active folks of all levels and let's be real –it looks really fun. Pedal your heart out on big winter bike tires across town, across a frozen lake, or on the trails outside town.
Is fat biking as fun as it sounds?
Fat biking is basically a 'no bad days' sport. You'll love it as soon as you hop on the bike and power through the snow. With some good gloves, a helmet, and the gusto to explore, fat biking is your next favorite sport.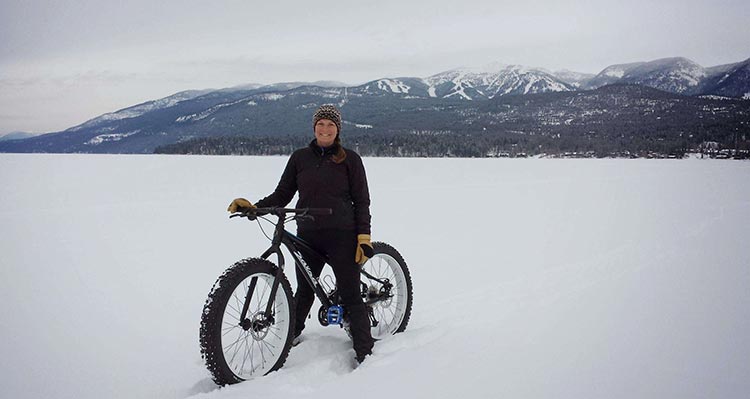 Where do we ride?
Bike rental is easy at Glacier Cyclery & Nordic. From there, you can head out on the paths connecting Whitefish Lake to downtown or drive out of town 15 minutes to the Forest Service trails at Round Meadow.
So make a list and get cracking. This is definitely the winter to push yourself in the great outdoors!