Billy Marcial has a good story. The 33-year-old is not only the quintessential "everyone in Whitefish knows him" local. He's a unique brand of local that was raised in Whitefish and everyone also knew his parents, especially his late father, who was a local legend known as "Rad Jack."
For the interview for this story, Billy's drinking a beer at the Great Northern Brewery in downtown Whitefish. So far, two thirds of the guys in the bar (mostly hockey players) have said a boisterous hello to Billy. Billy laughs with all of them. He has the build of an athlete, the look of a skier and a truly genuine smile. But Billy's story really starts with his dad, Rad Jack.
Rad Jack
Jack Marcial was known as 'Mad Man Marcial' in Colorado, where, Billy explains, "my dad learned how to downhill ski in his early 30's." It wasn't long before he was revolutionizing telemark skiing, and is recognized by Sport's Illustrated Magazine as coining the 'Ski to die' technique. Billy's parents moved to Whitefish in 1988, when he was two.
"My mom worked as a switchboard operator on the mountain, and dad was in construction," says Billy. "I basically grew up on the mountain either at my mom's work or skiing with my dad."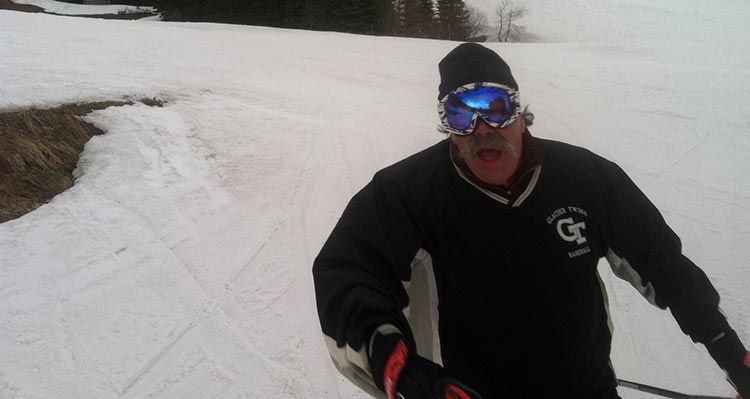 His dad, notorious for skiing fast, passed a few months ago. Billy has shared his life motto "Live Rad" with the community that knew and loved Rad Jack, in banners, shirts, and stickers.
"We all learned how to live rad from my dad, he says. "Living rad means just going out to do whatever and being positive. He really gave us that message."
How to Live Rad in Whitefish
To "live rad" has become a lifestyle in Whitefish, inspired by Rad Jack. In Whitefish, it's easy to live rad. With Whitefish Mountain Resort to the north, and Glacier National Park close enough to see the dramatic peaks on a clear day, what isn't great about this place?
Billy has a couple of go-to locations for each season. He says the best views from Whitefish Mountain Resort are from the top of Evan's Heaven, where you can see Goulee's on the left and East Rim on the right and beyond the mountain to the entire Flathead Valley, from Glacier National Park to Flathead Lake. In the summer, he's usually on the Middle Fork of the Flathead River fishing or at one of his favorite spots in Glacier (see below!).
Finding the Way Back to Whitefish
Billy went to Whitefish High School and then left the valley for a few years. He reflects on these years with appreciation, but says that one day he realized he had to come back to Whitefish and committed to returning to his hometown.
"Something about this place keeps bringing me back," he says. "And as soon as I decided to return, I got a job and things just worked out."