DREAM Adaptive's mission is "outdoor recreation for all"—and they mean it.
Based right here in Whitefish, MT, DREAM Adaptive Recreation Inc. provides adaptive lessons and recreational opportunities to individuals living with disabilities in the Glacier Region.
DREAM (Disabled Recreation Environmental Access Movement) is best known for their adaptive ski lessons at Whitefish Mountain Resort. With cooperation from the ski hill, DREAM has worked to get hundreds of skiers of all abilities out recreating on the slopes of Big Mountain.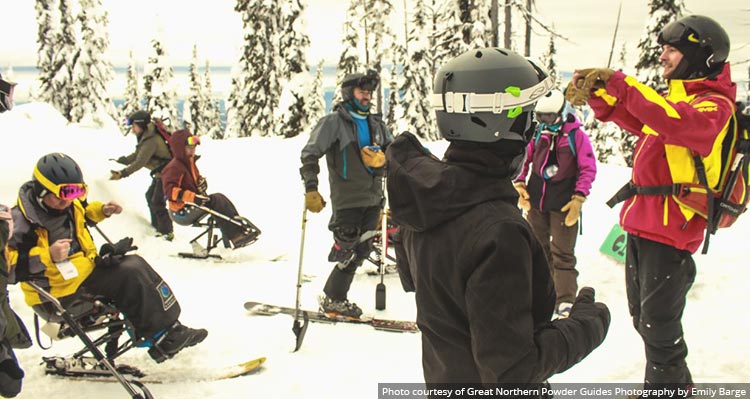 And four years ago, they took their mission out-of-bounds. To keep pace with the growing backcountry riding culture in Whitefish, they set up their first "Powder Camp". Based north of Whitefish in deep snow country, and using the accessible guest rooms at Grouse Mountain Lodge as the basecamp for the adventure, the week-long program aims to provide adaptive backcountry riding skills to advanced skiers and snowboarders. With a little help from the Great Northern Powder Guides and staff-volunteers, DREAM will kick the program off once again this February.
Teamwork Makes the Dream Work
The beating heart behind Powder Camp is former Paralympian and Program Director Lucas Grossi, who says he's very proud to offer the only adaptive program in the US that offers "true backcountry." When paired with his passion for the sport, his prior experience is evident in the program's success. With a full-roster and 100 percent volunteer retention rate each year, it's safe to say everyone is having a blast out there.
"On the mountain, it's hard for me to get fresh lines," says return camper Ody Pierce from Whitefish. "It's awesome to be the first one every time out here."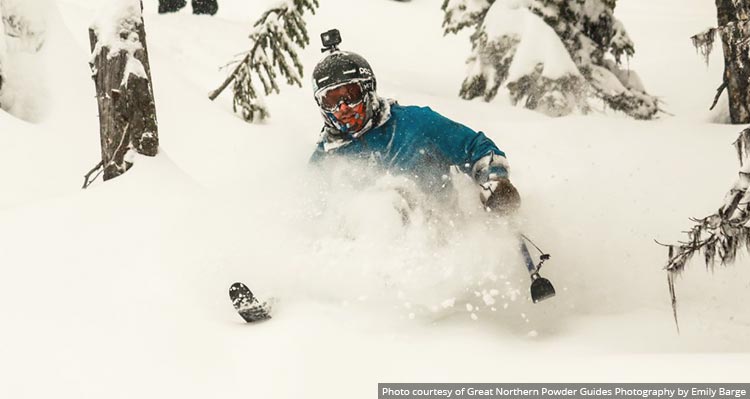 Great Northern Powder Guides owners Jay and Ky Sandelin say they are "honored to be a part of the program and will participate as long as the program exists." Their employees love working with DREAM too, and even argue over who gets to guide them each year.
While Powder Camp is all about having fun, there's a lot of preparation and teamwork required, both in the lead-up to the camp and, of course, in the field. From suiting up for the day ​and​ leaving wheelchairs behind at basecamp to boarding the cats and ripping powder lines, there's a lot of logistics to consider.​
Trust, knowledge of conditions and a sense of camaraderie are key to any successful day of skiing in the backcountry of northwest Montana. For DREAM and their campers, it's no different. All the riders are strong and experienced riders, and sit-skiing in the backcountry is definitely challenging on many levels.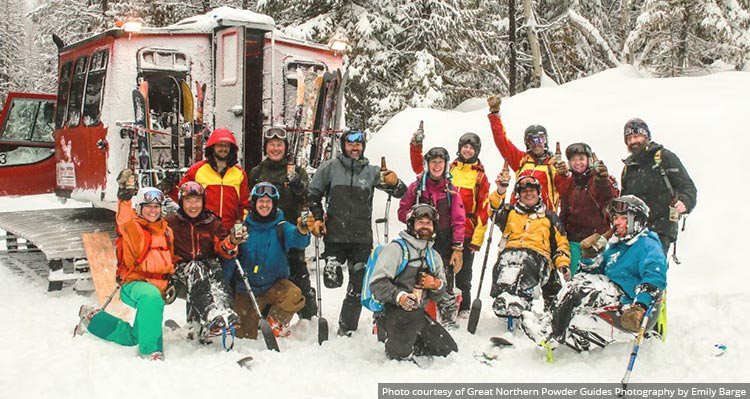 But, it isn't all business! By the end of day, karaoke ensues in the cat between runs and campers and staff become fast friends. Powder Camp is less like a program and more like a great week in the backcountry with friends.
Longtime DREAM volunteer Craig McViney says he started volunteering for different reasons but now he just does it because it's the best days he has on snow.
We look forward to welcoming DREAM to Grouse Mountain Lodge each winter.