For beer lovers, it's a chance to delve deep into really good brews. For microbreweries, it's a rare opportunity to take over a bar's entire tap and showcase all you've got.
"It's only them," says Nicole Smith, Food and Beverage Manager for Glacier Park Collection by Pursuit, and Logan's Bar & Grill at Grouse Mountain Lodge, about how it works. "It's pretty simple—they get the whole thing for one time. We only pour their beers."
Held generally once a month during the winter at Logan's and drawing a crowd of fanatics, each Tap Takeover lets one microbrewery (chosen especially by Smith and her team) have exclusivity to a small crowd of true aficionados. They get all eight pours. No other beers are available on tap that day.
The Front Brewery is up next, with a Tap Takeover on December 8 and 9. They're known for their fresh beers and using highest-quality barley malt grown less than four miles away from their brewery in Great Falls, Montana. This Tap Takeover means having the chance to interact with customers and also to get feedback.
"We get to put a face to our beer and our company—that's important to us," says Front's Jeremiah Johnson. "We want people to know us. It also allows people to ask us about our recipes, our process and ingredients and then also provide us with feedback that may result in our next great product."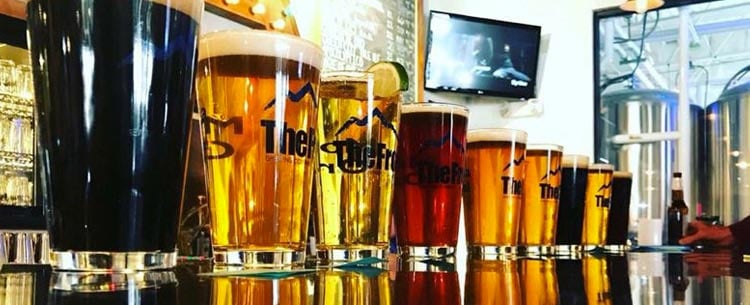 No matter how you stretch it, tasting beer from a microbrewery is learning more about a place and it's people. For visitors, tasting locals beers can be as enticing and adventurous as hiking new trails or finding new chutes to ski. People love tasting new beers from new breweries. And it's more than just sipping back a drink—they want to know about the who and where and why behind the beer.
Montana's a hive for craft breweries. In Whitefish alone, there are a handful. Most, however, either don't have a liquor licence or don't have enough varieties of beer to fill up Logan's eight taps. Generally, there will be four core brews, two regular brews and two special seasonal ones which are often experimental and Logan's is the first place they're presented to the public. So, Whitefish locals are as likely as visitors to be drawn to Logan's Tap Takeover.
"We try to stay local in Montana, although we have had microbreweries from Colorado and California," Smith says. "But Montana's where we like to keep it."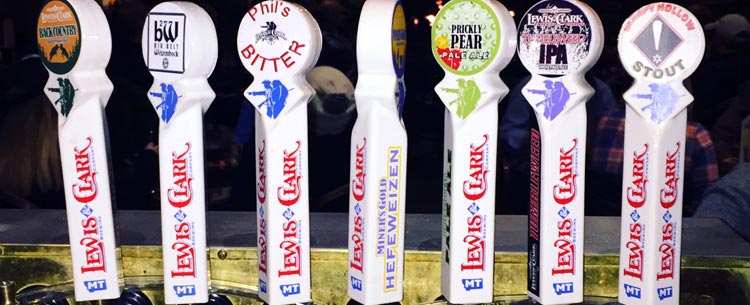 Most of the year, Logan's has a variety of eight different microbrewed beers on their tap.
On the Friday night of the Takeover, a representative from the microbrewery is usually in attendance, often with the brewmaster as well. Patrons can do a sampling of all eight beers from one brewery. They can also get their growlers filled and take some home for later. There are often prizes, and there's definitely mingling and learning and toasting with fellow beer-lovers. The taps flow through Saturday, and continue in to Sunday until they run dry.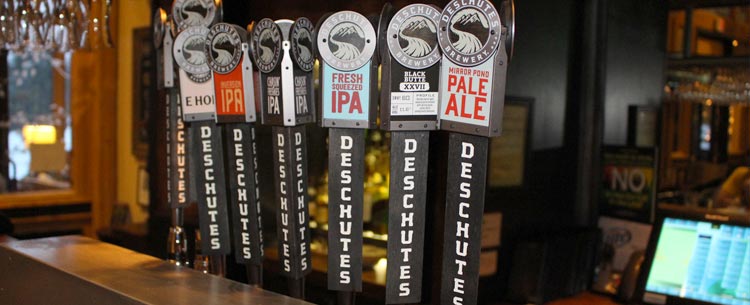 The Front Brewery's beer is the result of what they call a "convergence of stream-fed water and local grains." They'll be pouring their Mountain Man Scotch Ale, Keep Cool Creek Blonde Ale, Soul Shine Citra IPA, Vanilla Porter, Cerveza De Oro Mexican Lager, plus three other special brews. Brewery staff will be on hand all weekend to answer questions and give away great prizes!
For Jeremiah Johnson, it's also about community-building.
"We want to be important in our community," he says. "The Flathead Valley is my original home. We look forward to meeing people and having a great time."
Great food specials accompany the pour. Often, Logan's chef prepares an appetizer, two entrees and a dessert all made with one of the beers that's being showcased. There could be fish'n'chips with beer batter, or bratwursts poached in beer. Porter dark beer goes well with chocolate, so Smith says it often shows up in a chocolate tart or cake, for example.
It's no surprise, then, that Smith herself is a beer lover. She says for microbreweries, the smaller the better. "I just enjoy beer in general, but with the small craft beer it's really personal," she says. "It's a ton of fun."
Stay the night at Grouse Mountain Lodge from just $79 during the December 8 and 9 Tap Takeover with The Front Brewery! Contact us for more details.