Winter is full of exhilarating activities for the adrenaline seekers to enjoy, but for many, finding a way to unwind is just as important. Whitefish — Montana's picturesque western mountain village — is the perfect place to escape this season.
With nearby Glacier National Park and quiet small-town charm, there's no better place to de-stress. Here are five of our favorite relaxing winter activities in Whitefish, Montana.
1. Ski in Solitude
If downhill skiing or snowboarding is your thing, plan a weekday to swish down the slopes at Whitefish Mountain Resort. With over 3,000 acres of terrain, you can leave the crowds behind by skipping the busier weekend days and having the hill (almost) to yourself.
Looking for a different adventure? Whitefish has excellent cross-country ski paths for an activity that will have you traveling far and wide across Glacier National Park, taking in the sights as you go. Base yourself at Grouse Mountain Lodge for ski-in, ski-out access that's the stuff of Nordic dreams!
We recommend the groomed trails at the golf course (Glacier Nordic Center in the winter) which is just out Grouse's door. Classic cross-country ski rental packages start at just $20 at Glacier Cyclery & Nordic in downtown Whitefish.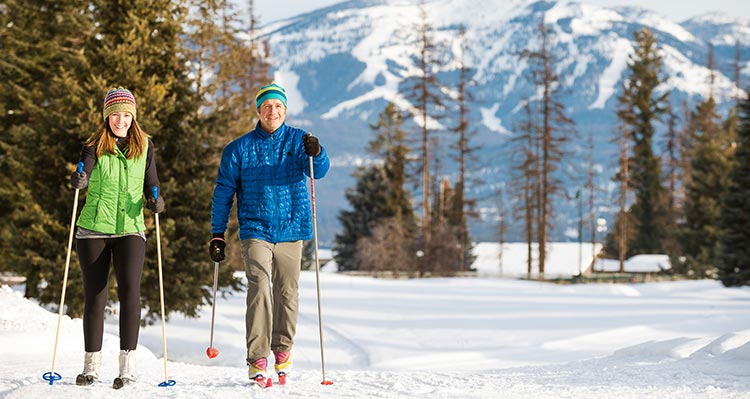 2. Get Cozy by the Fireplace
To get those rustic Montana vibes all weekend, you'll want a cozy lodge-style place to stay with a little luxury. Add in a big fireplace where you can curl up with a hot chocolate (or a hot toddy), and a convenient location on the edge of town, and you'll find yourself at Grouse Mountain Lodge.
You'll love the great views and quiet lodge — our favorite place to recharge while enjoying a delectable menu at Grouse is Logan's Bar & Grill. And once you've spent a weekend there, you'll come back for the service, the food, the comfy rooms and those amazing long winter sleeps.
3. Explore the Wilderness in Winter
Are you the type that truly relaxes when you're being active? If de-stressing to you means adventuring a little, find a new way to get outside in Glacier National Park. Your go-to guides for epic (and just fun for any level) winter activities are the Glacier Adventure Guides.
Glacier Adventure Guides will take you out on a serene cross-country ski tour in Glacier National Park, or you can level up with a half day ice climbing expedition. Get lost in the quiet of the park in winter, the gorgeous views and the excitement of the adventure.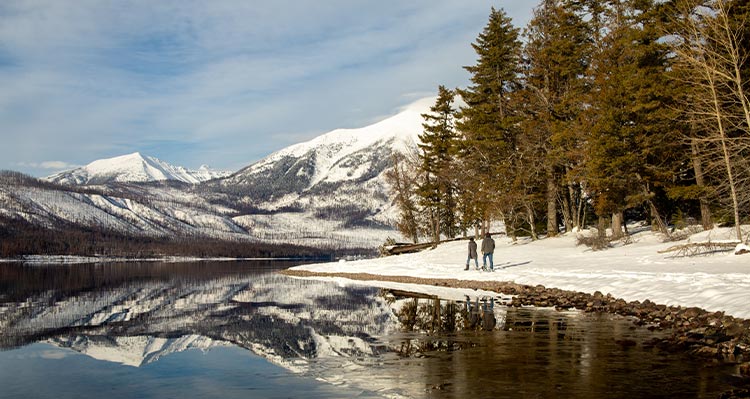 For a beautiful walk on your own, try snowshoeing in Glacier National Park around the shores of Lake McDonald. Don't forget to bring a snack! Park services and surrounding areas are mostly closed in winter.
4. Take a Walkabout in Town
Whitefish has a very walkable and extremely adorable downtown area — especially when the snow falls and it turns into a gorgeous winter wonderland. All the businesses in the downtown area are local, so all your trendy finds will be unique to Montana. Stroll around for an afternoon and pop into the shops, grab a coffee (or if the cold doesn't bother you, an ice cream) at Sweet Peaks, and end the day with a craft cocktail or glass of wine at any of the amazing spots to enjoy après in town.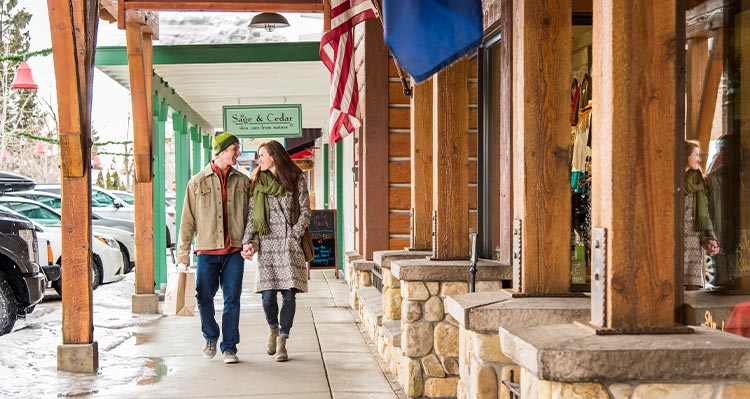 5. Go For a Winter Ride
Riding a bike is a great way to get some much-needed quiet time, and with fat tire bikes available for rent and bike paths looping through town, the weather won't stop you in Whitefish.
Rent a fat tire bike at Glacier Cyclery & Nordic and take it for a spin across town on paths connecting right to your home base at Grouse Mountain Lodge. Try to catch a sunny day to ride down to Whitefish Lake, where you can take a deep breath amidst epic views of the ski hill and surrounding mountains.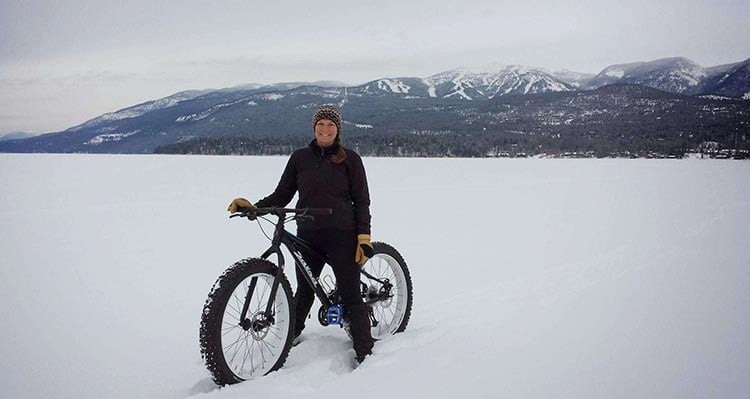 Get away this winter for some chill time — head to Whitefish for the ultimate mountain town escape. Whether you want to explore outside or just stroll through town and read a book by the fire, you can find exactly what you need for a weekend reset.