Nick and Heather Wieler first came to Whitefish on a ski trip in the mid-80s, on a school "study break" which they aptly renamed "ski break." Nick was at the University of Manitoba, and Heather was in Calgary, where she is from.
Back in the '80s, skiing Whitefish was rustic, with no high-speed quads and a hill of mostly locals. Around town, the Canadian dollar was taken at par and, Nick explains, "the town could get pretty wild." They loved the mountain and the fun little town, so they kept making the trip whenever they could.
Over the years, the Wielers have felt more at home in Whitefish. When they settled in Alberta together, they met more people who also "skied the 'Fish," so they carried on the tradition, making it an annual trip during the holidays for the last few decades.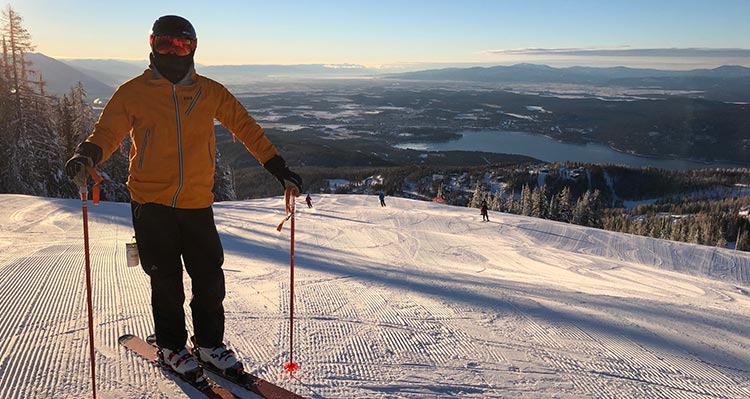 Nick and Heather have been married 21 years now and after careers in Calgary, they moved to Canmore for a quieter phase of semi-retirement.
On their early trips to Whitefish, Grouse Mountain Lodge had just been built. Nick and Heather would get a bus of people together for a ski trip and stay at the lodge because it was "convenient, close to town, and a really good deal." Once they started staying at Grouse Mountain Lodge, they made it a tradition and have never stayed anywhere else in Whitefish.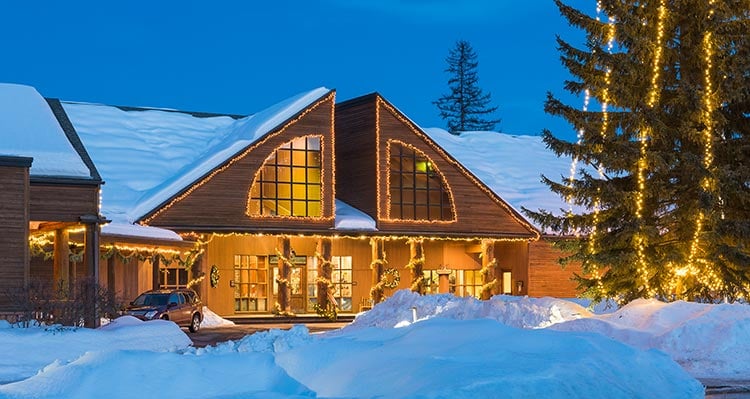 The Wielers appreciate the updates to the lodge over the years, and although they "had some pretty crazy parties in the little tiny hot tub they used to have," they were happy to see the lodge expand and are just as excited to arrive for their annual trek.
"It's always been the favorite spot," says Nick, describing the 30 years they've been coming to Whitefish. "Whitefish is probably the hill we ski the most, even living in Canmore," says Nick, referring to the handful of world-class ski resorts near Canmore like Banff's Sunshine Village and Lake Louise. "That's saying something."
What keeps them coming back? Here, Nick and Heather share their favorite things about the town.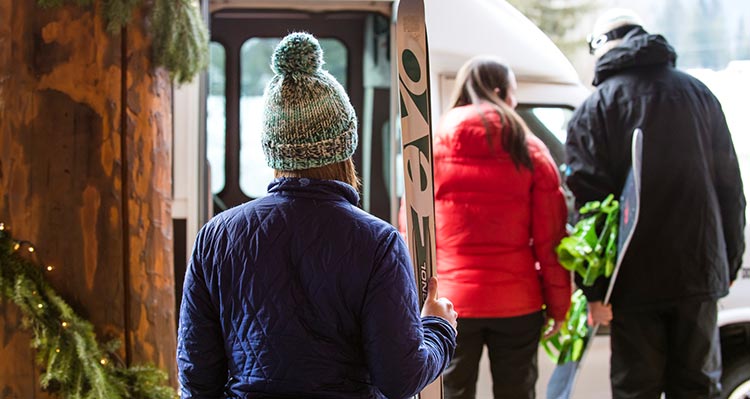 Four Reasons We Keep Coming Back to Whitefish
1. The snow is consistent
Even during early season, the snow is usually good and it's never too busy at Whitefish Mountain Resort. "There's always good snow by Christmas time," Nick says.
Nick watches the weather patterns for powder days in Whitefish. "When there's a cold, high pressure system over Canmore and Banff, it's often dumping just south, in Montana. If we see good snow forecasts in Whitefish, we head down for a few days."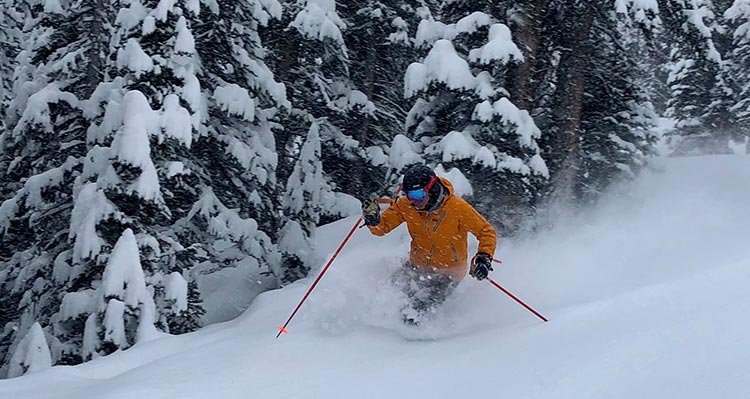 2. We love the service and the people
At Grouse Mountain Lodge, the friendly staff, shuttle service, cozy atmosphere, and recreation opportunities make any stay convenient and relaxing. Nick and Heather love the people they've met and the service at the lodge is top-notch, they say. "The people are so great. You don't have to worry about anything. You feel like friends to the staff—it's a wonderful experience."
3. It's a good deal
Grouse Mountain Lodge offers reasonably priced ski packages like the Ski and Stay deal, even as lift ticket prices at other mountains get less affordable. "It's kind of like the old days when we were coming down from Manitoba," Nick mentions. "It's still a good buy with lift tickets and lodging. You just can't beat that, even with the exchange rate."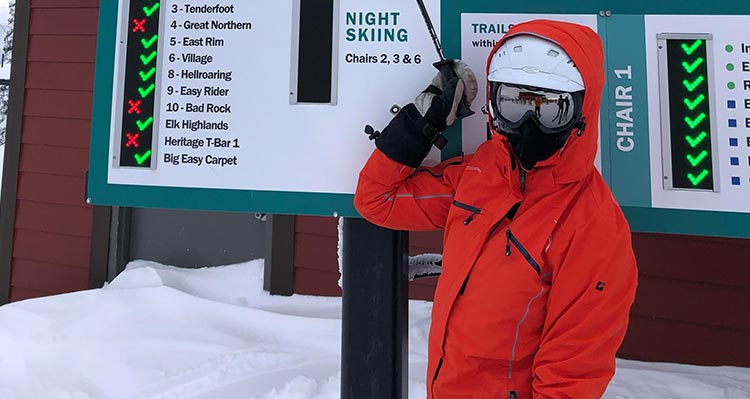 4. The town is fun
"Whitefish as a town is just really great," Nick says, reflecting on his college "ski break" years, and all the great times with friends and family.
Having seen the town change over the years more than many newcomers have, he says, "Whitefish is growing, sure, but the ability to change and be progressive is what keeps the town alive. It's the community and the friendliness and a locally-owned ski hill experience that's the charm. That's what makes Whitefish what it is."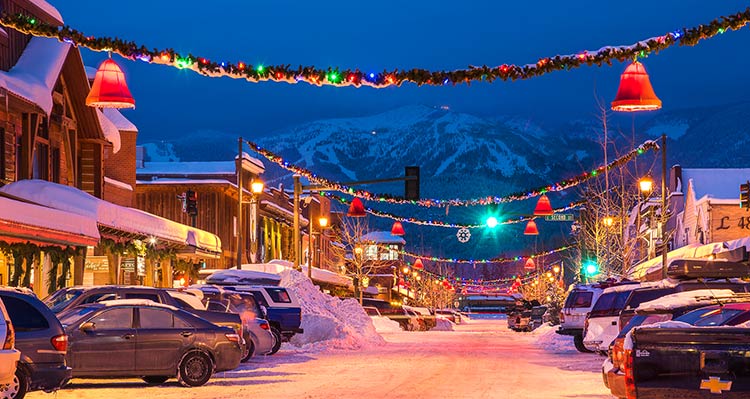 An Ongoing Annual Tradition
"Whitefish is very much a small, local flavor hill, which we love," Nick states. "You've got the 'Stube, the Hellroaring Saloon, the main street downtown, great snow, steep fall lines, and local legends. Experiencing Whitefish over the years has been a lot of fun—from the 'old school' to the modernizing town."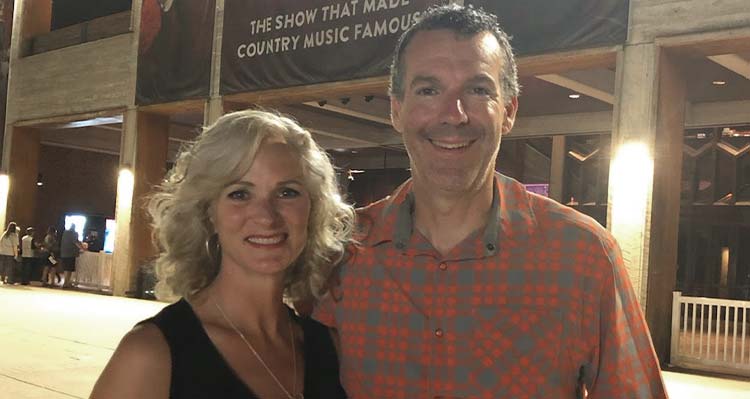 "We've had a lot of good times in Whitefish, going back to the mid-'80s," says Nick. "You can finish up your day on the hill and go the 'Stube for a beer, but then go to town for dinner and make the rounds downtown afterward. In the morning, you can wake up and take a walk near the golf course," says Nick. "We love that vacation style—that's why we always stay here. We'll keep coming down every year as long as we're on skis."
Coming for a ski trip this winter to Grouse Mountain Lodge? Keep an eye out for Nick and Heather, and don't be shy to ask them for some tips.