The replacement began over a year ago when the Wild Mile team began their search for new timbers that would match the existing dimensions. It was determined that four timbers would be replaced in the first phase of the project. Once the trees were selected, each one was felled and transported to Wild Mile's workshop in Bigfork, Montana where they were peeled, joined and prepped for their final journey to East Glacier.
Steck, a born and bred Montanan, was eager for his team to make their mark on Glacier's longstanding history. "You think about the era that lodge was constructed in and the work those guys went through," he says. Glacier Park Lodge has lasted for more than one hundred years and some of the components need to be replaced at this point. Steck says he's thrilled about his involvement. "We get to be the ones to put it together."
Old Ones Out, New Ones In
In the spring of 2018, work began to prep the area for the replacement that would take place later that fall. When Labor Day finally arrived, everything was ready for the replacement to occur. The decks and railings surrounding the area were removed in order to make room for a large steel structure that would bear the weight of the building during the swap. Then, one by one, the original timbers were removed and replaced by their identical counterparts.
"This project was especially challenging because we had to stabilize the building while managing lateral movements from the replacement," says Keith Smith, Director of Engineering for Glacier Park Collection.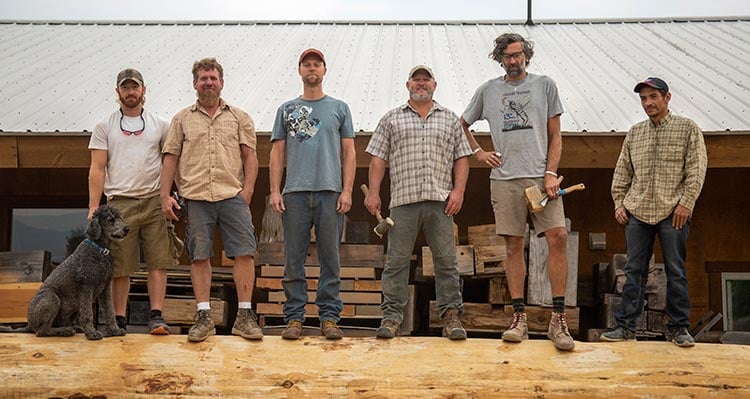 "We feel good about working with Wild Mile because they are extremely adept at considering structural details and bringing in the proper engineering techniques."
And for Smith, who oversees all aspect of heritage preservation for Glacier Park Collection, it's important to keep the project close to home. "It's always nice to work with a local company," Smith says. "We always try to give our big jobs to small businesses."
Ultimately, he says it's for the long-term benefit of Glacier National Park and Glacier Park Lodge. "It's a rewarding investment for future generations."
Once the new columns were in place, the difference was hardly noticeable. The rest of the replacements will continue in phases for the next several years, ultimately reinforcing the longevity of the lodge so it will stand for years to come.
"The entire process is historic and hopefully we can put together a product that will last as long as the original or longer," Steck says.
"Maintaining these heritage properties is our responsibility and we take it seriously," Smith says. "It's not only an investment in the future, it's a privilege."