Since Montana had been dubbed "America's Switzerland" because so many of the local peaks were more horn-shaped than elsewhere in the Rockies, Glacier lodges were constructed in an Alpine style, with tall gabled roofs, exposed beams and elaborately decorated moldings. Balconies were a key feature of historic lodges in Glacier as well.
Inside, Glacier lodges were designed to feel cozy. There are giant fireplaces that provide a warm welcome after a day exploring the wilderness.
A Lodge vs a Hotel
Louis Hill, the President of the Great Northern Railway and the visionary for Glacier National Park's most iconic historic hotels, envisioned a lodge to be like a village. Inside, there would be many common areas for socializing, reading books, listening to live music and eating and drinking. There was to be tennis courts, a horse stable, golf, and a manicured landscape of lovely gardens.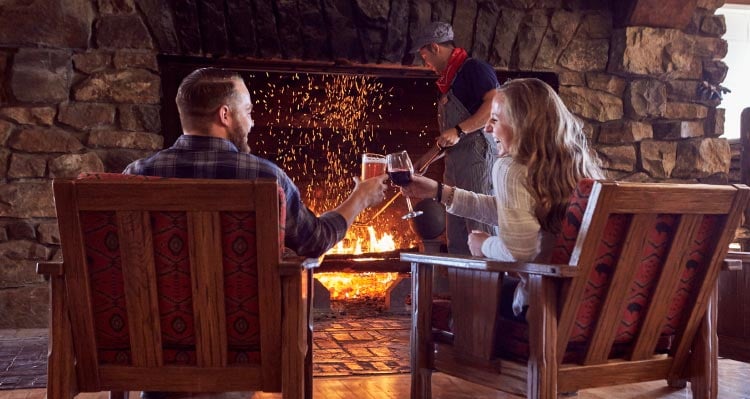 Lodges in Glacier today are so much more than a place to sleep. A lodge is an experience. A lodge has personality. It makes you feel something you're longing for. It's where the mind settles after a day exploring out of doors. It's a place to share stories, to meet new friends, to gather with loved ones.
A hotel is a building with interior corridors that welcomes travelers. A motel (or motor hotel) has exterior corridors only. You could say that a lodge, especially in Glacier, is a feeling.
Glacier lodging = options!
In Glacier National Park, lodging can range from a small and private cabin on the shores of a lake at Apgar Village to one of the previously-mentioned grand historic buildings, with towering views and ambitious style.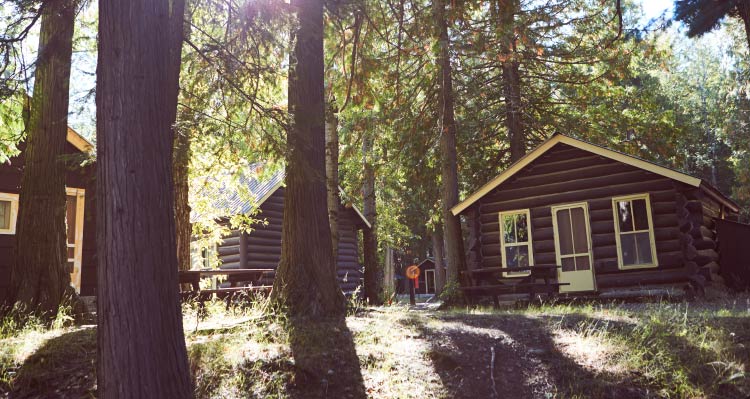 Perhaps the Grand Dame of them all, Glacier Park Lodge has always been ideally located. It's right across from the train platform in East Glacier and at the gateway to exploring Glacier National Park. It maintains an historic charm and yet it continues to draw modern adventurers. There's an element of nostalgia to the classic Glacier Park lodges—no television, no DJs, no workout rooms. Instead, you find a timelessness that connects you to travelers of days gone by.
After all, the views have remained the same.