Building Partnerships Through Good Food:: Farm-to-Table at Glacier Park Lodge
Every tomato has a story, they say. The journey of a ripe red heirloom tomato from a farm on a Hutterite colony in northeastern Montana to a plate in the Great Northern Dining Room at the historic Glacier Park Lodge is one of simplicity and beauty. After all, the closer the better.
Here, in the high mountains of Glacier National Park and its environs, food can be scarce. The alpine zone is stunning, but it's a tough place to grow vegetables. Fortunately, just east are the Great Plains, a prairie grassland that makes for superb farming.
It's been a tradition at Glacier Park Lodge, as it has been across other Glacier Park Collection by Pursuit lodges, for many decades to source produce locally whenever possible. And for much of that time, there's been a key partnership with local Hutterites (see below for information on Hutterites and their culture).
The lodge, built in 1912-1913, has always held high standards for cuisine. Early chefs met the challenges of remoteness by purchasing produce from local suppliers as much as they possibly could. Because of storage, kitchens were stocked with what was available and what could be stored.
That simple approach remains true even today. Even with modernized kitchens, freshness reigns supreme.
"We're a summer operation," says Glacier Park Collection by Pursuit's Executive Chef John Degenhart. "So we tend to lean towards fresh vegetables, fresh produce, fresh fruit - all in season. Flathead cherries and huckleberries are really popular."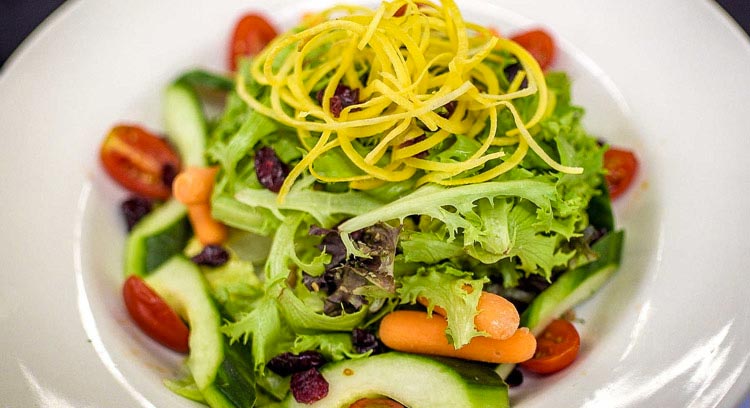 Each week, a truck pulls up at the side entrance of GPL from the Birch Creek Colony loaded with fresh produce. Farmers show off tomatoes, potatoes, squash, fennel, lettuce, carrots, corn, pumpkins, onions, radishes — a bounty that makes its way to the table here. It's the best of northern Montana.
"It's on-the-spot shopping," says Degenhart. "To maintain freshness, the closer you can buy the food to your kitchen will produce the best result. And this produce is excellent. It looks good, it tastes good and the flavors are outrageous."
Degenhart and his team then take what's fresh and design meals around it. And that produces creativity.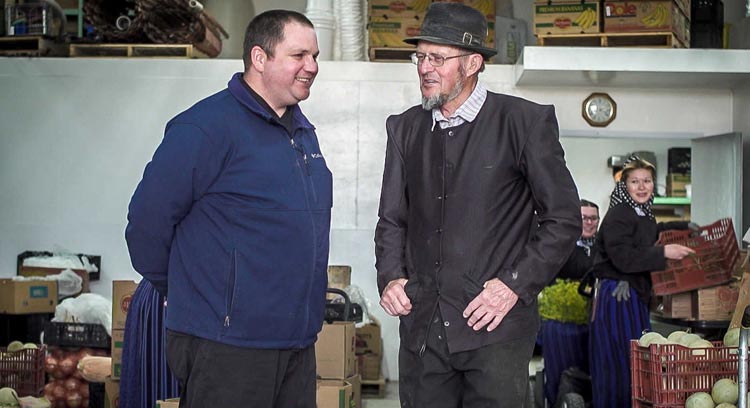 "It provides an open and creative outlet for our chefs so they can pick what vegetables they like and what looks good to them and bring that into their kitchen," he says. With daily specials highlighting the best of regional produce, and pairing them with Montana steaks or local rainbow trout, for example, it's about offering guests a taste of the local.
Birch Creek Hutterite Colony was founded in the post-war years of the late 1940s. It's a Lehrerleut colony, which means its roots date back to 16th Century Russia. Hutterites are a communal people who live in centralized 'colonies' where they farm and raise livestock. They believe in the community of goods — all material goods are held in common — and in absolute pacifism. Hutterites also dress in modest, simple uniforms. Men wear collarless jackets and a hat. Women dress in light two-piece dresses with a plaid apron.
On a recent visit to Birch Creek, Degenhart toured the farm and was struck by how friendly the people are and how efficiently they run their farm.
Degenhart says the lodges also purchase freshly-baked bread, pickled carrots, pickled beets and some superb home canning.
"The flavors are so fresh - the tomatoes are like the best tomatoes you've ever tasted," he says. "But just as important is the partnership we have built. It just makes sense."
After all, supporting local farmers is about more than contributing to the local economy or giving back to the community - it's also about great food!
Chef John's Summer Squash Basil Pasta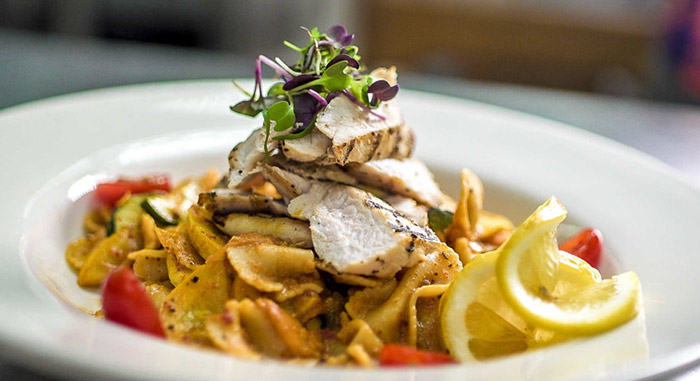 ½ cup zucchini, diced.
½ cup squash, diced
½ cup heirloom tomatoes, diced ½"
¼ cup red onion, diced
1 cup bowtie pasta, cooked (or favorite)
½ cup white wine
1 cup cream
1 tsp butter, whole
2 tbsp basil, fresh (chiffonade)
2 tbsp olive oil
1 tsp salt
½ tsp black pepper
2 tbsp fresh parmesan
Cook pasta al' dante (slight bite).
Wash and dice all vegetables. Cut fresh basil in chiffonade form.
Begin with heating sauté pan over med/high heat. Add olive oil and let heat, once hot add zucchini and squash to the pan and cook for 4-5 min until slightly soft.
Add tomatoes and mix well, let cook additional 2-3 minutes. Add salt and pepper.
Deglaze pan with white wine and reduce by half. Add cream and bring to boil.
Add pasta & basil and mix well. Let reduce until thick and creamy. Swirl in whole butter.
Add 1 tbsp parmesan cheese and mix well. Plate and serve hot. Top with remaining parmesan cheese.