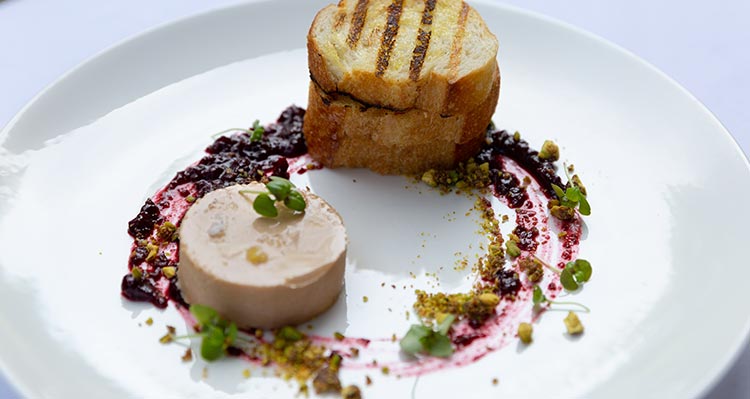 Montana is home
After growing up in the Flathead Valley and beginning his career as a cook, Reynolds attended the renowned Seattle Central Culinary School, where he was recognized as the most outstanding student in his class. After graduation, he worked in Seattle, Truckee, California, and then San Francisco before finding his opportunity to come back to the Flathead.
"I had Mothers' Day brunch in 2008 at the Belton Chalet, and the location really struck me—a nice restaurant so close to Glacier," he says. "So when a friend said last year that the Belton was looking for an executive chef, I found the announcement and applied."
He packed up his Jeep to make the move back to Glacier before even getting the job offer, but he "had a really good feeling about it."
"This is the venue for me to share my cuisine; in my home," says Reynolds. "Now, I take the backroads to work and I see wildlife, and even on a busy day, I'll step out of the kitchen to see the sun setting over the mountains and I know there is no place like this in the world. It's so special to get to work here."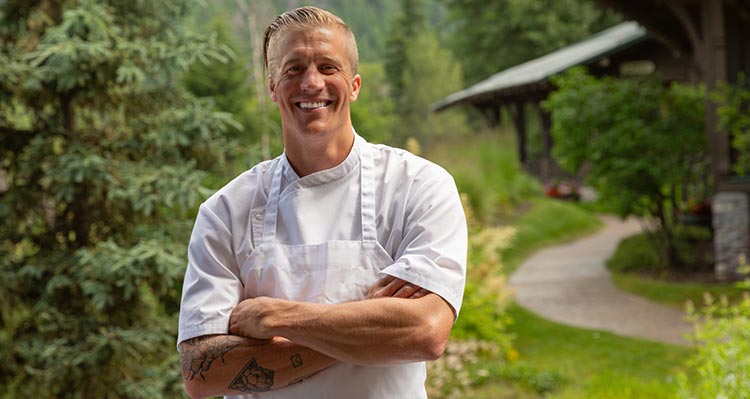 Glacier-inspired cuisine
Reynolds brings his strong sense of place into every dish he creates. His goal is to introduce fresh, regional ingredients into the scenic atmosphere.
"I create cuisine that is delicious and local while maximizing the quality of every guest experience and the scenery nearby in Glacier," explains Reynolds. "I like to say my cuisine has a French backbone with playful modern twists. It integrates local produce and meat, which root it in this incredible place we live."
Reynolds often receives accolades from tables of guests, but when pressed to share some feedback, he remembers one group in particular. The family of four was from San Francisco, and, self-described "foodies". They asked to speak to the chef after their meal. Reynolds remembers, "They'd been in Glacier National Park all day and had the most amazing experience before coming to the Belton, not really expecting anything special."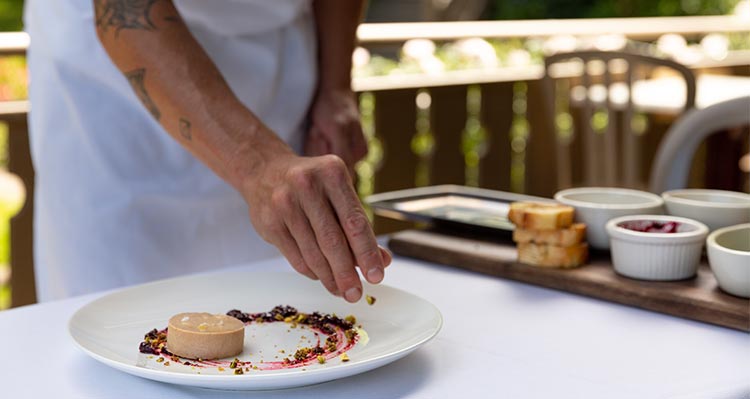 They told him they were blown away by the food and the flavor combinations and said it was such a special way to end an incredible day in Glacier Park. Reynolds also remembers the dessert they shared—his smoked fir needle crème brulee. He says it has the very subtle taste of burnt fir trees which is added to a classic crème brulee, and then topped with huckleberries.
The dessert fit the experience, as it was a precise statement of place to compliment an incredible day exploring the park—like a stunning one-two punch combination that brought it full circle. "I created that dish while considering the season, that was my inspiration."
And what Reynolds remembers most was the integration of scenery with the artistry of cuisine. "That dish was the pinnacle of this family's dining experience and their day in the park. The food became a special part of their experience in Glacier. That's exactly what I am inspired to create here at the Belton Chalet."
Join Chef Earl and his team for a meal you'll remember this summer at the Belton Chalet.