Cruising over the Continental Divide in an airplane, driving north along the shores of Flathead Lake, or relaxing on the train with a glass of vino — however you get to Glacier National Park your first time, we're glad you're on your way!
Glacier National Park is situated in the Crown of the Continent of northwest Montana. Inside the park are iconic peaks, historic lodges and endless hiking opportunities. Outside the park are small towns with Montana flavor and world-class culture. How do you jam everything into your first weekend trip?
We've got you covered. Read on for your three-day itinerary in Glacier National Park, then map it out, take some notes and put together the trip you've been dreaming of.
Day 1: Welcome to Glacier!
Arrive late Friday afternoon by train, bus, plane or car and make your way to West Glacier. Check into the cabins at Apgar Village — this is your quaint, rustic lodging for the weekend.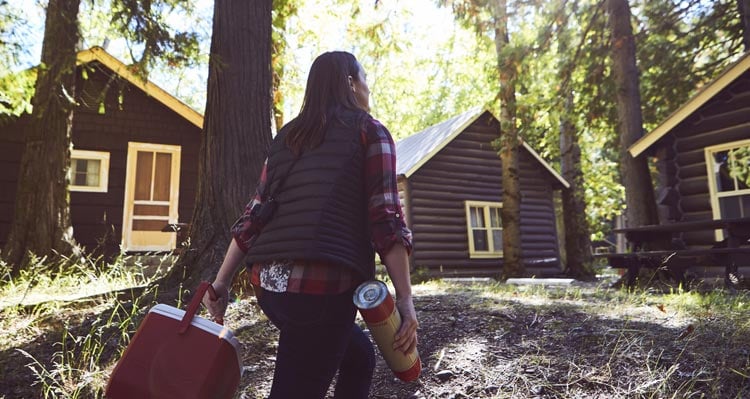 Hit up happy hour the Montana way — grab some locally brewed beers at the grocery store in West Glacier and plant your camp chairs on the shores of Lake McDonald. You're here! Breathe in the fresh air and enjoy the big sky views.
For dinner, put on a nice shirt or sundress (it's all very casual here) and then pop over to the Lake McDonald Lodge for dinner at Russell's Fireside Dining Room. Have some huckleberry ice cream for dessert!
Day 2: Start early!
Get going as early as you can — 6 or 7 a.m. if you can swing it. The sun comes up around 6 a.m. here in late July. Make the most of the daylight, increase your chances of spotting wildlife and beat the crowds by starting early.
This is your big day! Drive the Going-to-the-Sun Road up to Logan Pass. Another perk of an early start is the possibility you'll find a parking spot. Or, play it safe and take the shuttle from Lake McDonald Lodge. Either way, you'll be in awe at the views all the way up the glacial valley.
Plan almost a full day for the Going-to-the-Sun Road, especially if you want to do any hiking. The drive's an adventure in itself, and you'll stop a lot for pictures and to take in the unbelievable views of deep valleys, soaring peaks and mountains as far as you can see.
At Logan Pass, pop into the visitors center to review some history before you make the short trek up to the Hidden Lake Overlook (about one to two hours hiking, round trip).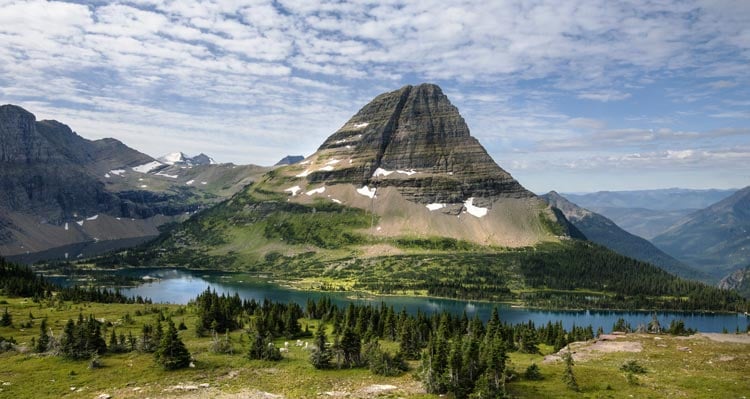 Dinner tonight is just outside the park in West Glacier proper. Stop by Freda's Bar for a cool drink (a Montana mule, perhaps?) then go next door for a burger at the West Glacier Café. After dinner, cross the street to stretch your legs and have some old-fashioned fun at Golfing to the Sun Mini Golf.
Reward yourself with locally made huckleberry ice cream post-mini golf. Don't forget to grab some basics for breakfast and tomorrow's picnic lunch at the West Glacier Mercantile. Then, head back for a great night's sleep at your cabin.
Day 3: Get moving!
After spending some time in the car yesterday, today is the perfect opporunity to stretch your legs and hike. Relax by the lake for a bit in the morning. Then, hop on the shuttle at the Apgar Transit Center and ride to Avalanche Lake. You'll avoid parking woes and spend more time on the trail.
The hike is short and sweet up to Avalanche Lake. The trailhead is just up the road a bit, about 25 minutes and 14 miles from Apgar and about 5.5 miles from Motel Lake McDonald and Lake McDonald Lodge. You'll follow Avalanche Creek up to the foot of the namesake lake, which sits in a big, glorious glacial bowl. This is the high Rocky Mountain country you've been longing to see!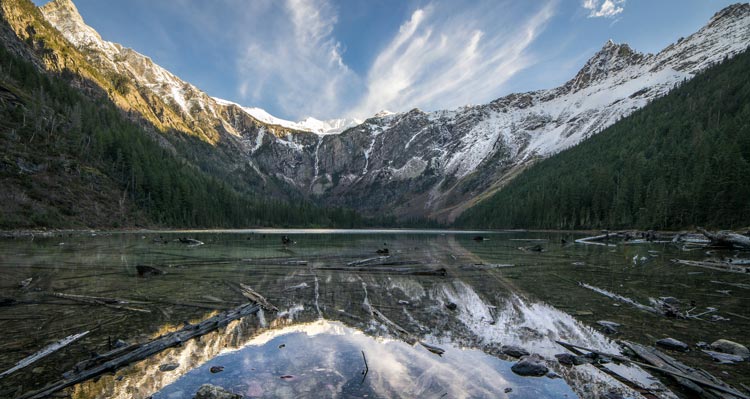 Hang out on the beach while you eat a picnic lunch and take pictures at the lake. Heading back is a little easier, but the trail does get busy as the day goes on. The hike will take a few hours — three to five for most people, so allow plenty of time to spend at the lake as well.
When you get back to base camp, it's time to clean up and head out. It's the end of your very first trip to Glacier National Park, but we know it won't be your last!
Book this Trip
Learn more about lodging at Apgar or elsewhere in Glacier National Park or call 1.844.868.7474 to speak with a travel specialist who will set you up for your first (of many!) visits to the park.