How'd they build a shop around those old-growth trees? It's the largest gift shop in Glacier National Park. It's got tasty ice cream and steaming cappuccinos. There's a Press-a-Penny. The selection of locally-made artisan gifts is impressive. But the most amazing thing about the Cedar Tree Gift Shop has to be the cedar trees growing in the middle of it!
The shop was built around two old-growth trees in the heart of quaint Apgar Village nestled on Lake McDonald on the west side of Glacier. This area marks the eastern limits of Western red cedars in the United States. The trees standing inside the gift shop survived the great fires of 1910, also known as the "Big Burn", and are hundreds of years old.
The Cedar Tree Gift Shop began as two smaller buildings, the original check-in desk for Apgar Village Lodge and "camp store" and the original Cabin #14 from Apgar Village. They were merged in 1974 into a pier-and-beam construction that held the stately trees at its core. Several of the exterior walls were designed to 'jog' around other trees outside.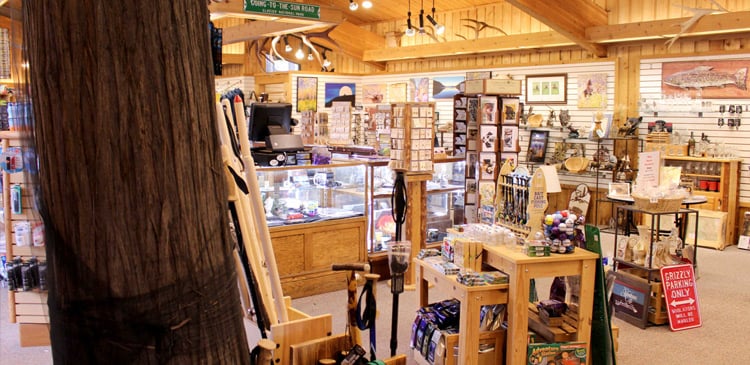 It's become a must-see for visitors to Glacier, with repeat customers coming year after year. It's somewhat of an icon, you could say.
"It's really a destination in itself," says Jessica Sturm, Retails Operations Manager for Glacier Park Collection.
Each year, Jessica and the team responsible for stocking the shelves of the Cedar Tree scour Montana for unique products. Their goal is to highlight Montana artisans and showcase high-quality gifts visitors can take home as mementos from Glacier.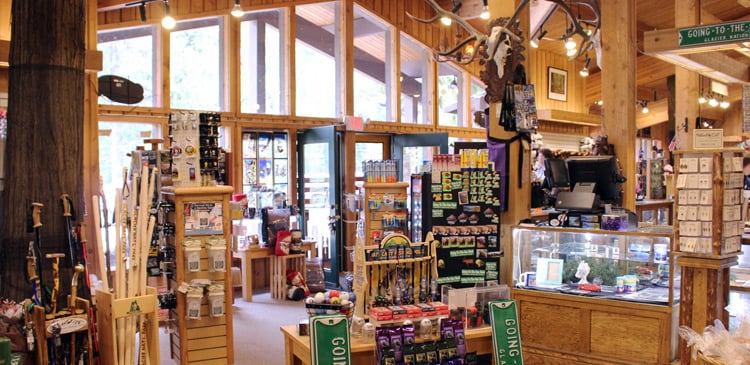 Here are some of their favorite finds:
Covidae Drawings and Designs: A Whitefish artisan hand stamps her original art designs on eco-friendly, 100 percent cotton tea towels, bags, and pillows. She also uses non-toxic inks.
Heavens Peak Photography: Former Glacier Park, Inc. employee Victor Brozovich spent 10 seasons exploring and experiencing the park. He now produces photos that he turns into metallic prints, paper and wood prints. Victor lives in Kalispell, MT.
Montana Mountain Cedar: Based just down the road in Hungry Horse, MT, this artisan hand-mills lamps and vases out of 100-year-old fence posts. Then, the artisan finishes them off with pieces of barbed wire from 1898. Talk about unique!
MoonDance Jewelry and Artwork: A Missoula-based artisan whose jewelry is made from metal scraps. She sources the metal for her artwork local recycle bins and even salvages metals out of old electronics.
KC Creations: (not new but we have expanded the line) Laurel, MT- Handmade antler art, tools, knives and games (thought it would be nice to mention something a little more manly than the rest of these)
Mud 'n Suds: Handmade soaps from Missoula. The shop also carries several Montana based body care lines including Montana Mud and Day Spa Body Basics.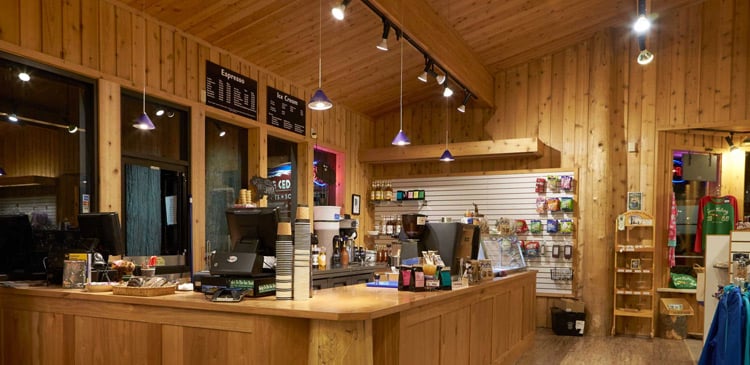 After you've picked up supplies for camping and souvenirs for your friends at home, take some time to relax on the front porch of the Cedar Tree. Grab a cappuccino or an ice cream from the Cedar Tree's walk-up window and take a seat. With Lake McDonald just steps away it's a relaxing place to watch the world go by. If you're feeling a bit adventurous you can rent a paddleboard from the Cedar Tree, paddle out onto the lake and take in the immense beauty of Glacier from a different vantage point.
Whether you're grabbing an Ice cream cone, playing on the lake or taking in the views from the front porch, just an afternoon spent in Apgar and you'll see why It's the kind of place people come back to year after year, a must-see. And not just for the trees!