There's no wrong time for a trip to the Crown of the Continent, but fall may just be the best time to visit Glacier National Park.
True wilderness re-emerges in Glacier as summer crowds disperse. The result is open roads, dynamic trails, welcoming waterways and active wildlife. Here are just a few reasons you should visit Glacier before the snow starts to fall.
To Bask in Changing Fall Colors
The transition to fall is easy to spot in Glacier National Park. While much of Glacier is covered in coniferous forests of a constant green, you'll find no shortage of deciduous trees that make a seasonal transformation in September and October. Mountain maples, black cottonwoods, aspens and western larches, aka tamarack, can be found within Glacier, and can be admired on a variety of hiking trails.
Near the Many Glacier area, visitors can spot colorful aspens and waterfalls on the Redrock Falls Trail, while more experienced hikers can take on the Scenic Point Trail near East Glacier Park Village for soaring views of both Two Medicine Lake and Lower Two Medicine Lake. If you're looking for larches, consider the South Boundary Trail departing from West Glacier Village just beyond the "old bridge," as it's known by locals. Always prepare for the elements when hiking in the fall – precautions surrounding both the weather and active wildlife should be taken before hitting the trails.
For Scenic Autumn Drives
Glacier's Going-to-the-Sun Road has a worldwide reputation for a reason, with incredible sights of rugged Montana wilderness around every curve. Though, if you find yourself along the park's east boundary, we recommend a drive on the just-as-spectacular Looking Glass Highway (Highway 49), a winding road through mountainous scenes located within the Blackfleet Reservation. Expect dynamic vistas as you travel above Two Medicine Valley, with vantage points overlooking Two Medicine Lake along the way.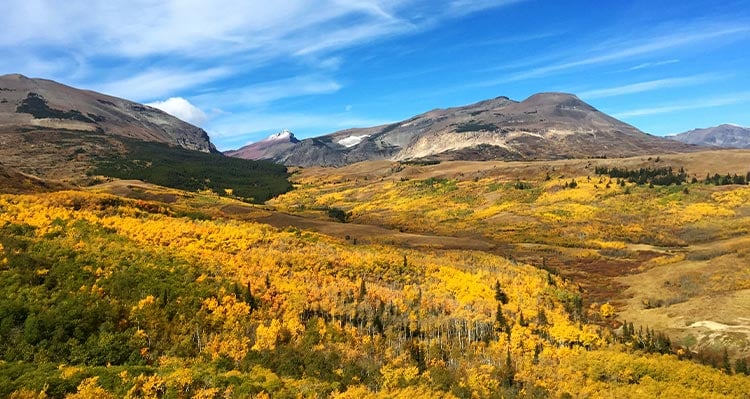 Be aware of road closures before and during your visit, as portions of many popular routes, including Going-to-the-Sun and Looking Glass, close upon snowfall.
To Try Your Hand at Fly Fishing
Although the warmest months of the fishing season may be behind us, fall is an opportune time for experienced anglers and first-timers alike to cast into Montana waters. Pressure is low and rivers are open as summer crowds dwindle, allowing for true serenity on the water.
In the fall, cast into any of the three forks of Flathead River, where ease of access, clear flowing waters and populations of trout make it worth a chilly wade or boat ride. Finding a prime spot on the river shouldn't be an issue for experienced anglers, though there are a number of outfitters in the area who can assist in tracking down the perfect location.
To Witness Wildlife in Action
As temperatures drop and the days get shorter, Glacier's resident creatures are especially active in preparing for the chilly months ahead. And while that means being aware of who and what you may cross paths with in Glacier is essential for your safety, it also makes for unique opportunities to get a glimpse of the park's wild side.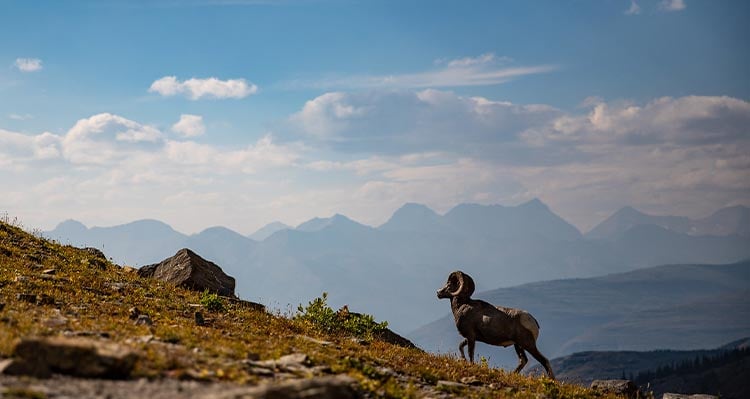 Pack binoculars and scan the mountainsides from pullouts along major roadways like Camas Road in the Lake McDonald Valley, as well as from the Rising Sun area in St. Mary Valley. If you take our tip and travel the Looking Glass Highway, be sure to budget some time towards scanning nearby Bad Wolf Mountain and Spot Mountain, where grizzlies, elk, moose, mule deer, bighorn sheep and other animals are often spotted preparing for snowfall.
Check up on Glacier conditions, road closures and other essential info on the National Park's Service's website.