More than 700 lakes (131 of which are named) dot Glacier National Park's map, offering opportunity to find both tranquility and adventure on the water. Paddlers will find themselves surrounded by snow-capped peaks, resident wildlife and a mosaic of wild forests.
And whether you're a beginner or a veteran paddler, it's always important to be prepared and practice water safety as Glacier's water is very cold much of the year — the National Park Service has some great water safety tips on its website.
Here are just a few spots to push off and explore Glacier and the surrounding area by kayak or canoe.
Lake McDonald
Enjoying Glacier's largest lake is likely exactly what you'd picture when dreaming of a serene day on the water. Lake McDonald's long, fjord-like shape is bordered by towering mountains, giving kayakers and canoers views from the waters both above and reflected in the emerald-hued waters below. Glacier Park Boat Co. has locations for rentals in Apgar (just beyond Glacier's west entrance) as well as at the other end of the lake near Lake McDonald Lodge.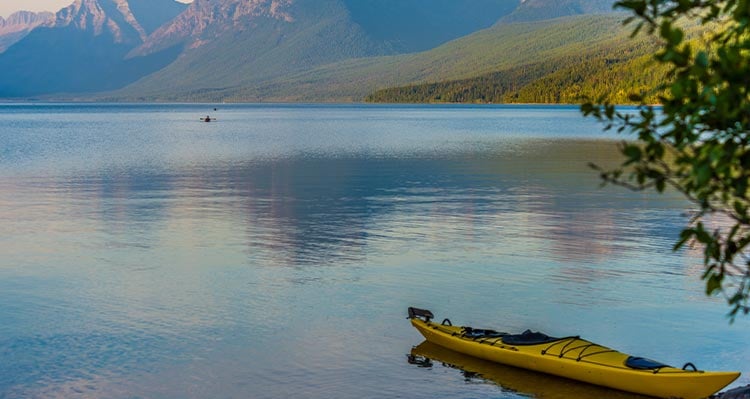 Swiftcurrent Lake
Nestled in Many Glacier Valley, Swiftcurrent Lake beckons boaters with its clear, quaint waters. Like Lake McDonald and many other Glacier lakes, Swiftcurrent sits at the base of sky-scrapping peaks and can be explored by non-motorized boats like single and double kayaks and canoes. Rent or launch your own craft — just be sure to get it inspected before venturing out.
Bowman Lake
Bowman Lake is a bit more off-the-beaten-track (or, in its case, off paved roads) than some of the other destinations in Glacier, though it's well worth the trek. Marvel at morning views by camping at the campground of the same name and hitting the water bright and early — an opportune time to enjoy a one-of-a-kind view of flanking mountains in the distance.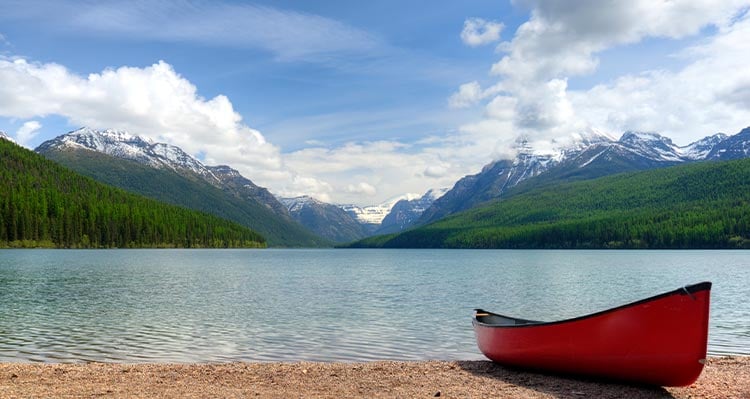 Two Medicine Lake
Located in Glacier's southeast corner, Two Medicine Lake's location means it's less visited than some of the other lakes in the park. That, however, makes it all the better for those looking to paddle in peace and enjoy sights beyond the shoreline. Be sure to add some extra time to appreciate the drive to Two Medicine Lake— beautiful views of sprawling landscape and wildlife sightings off the roadway put into perspective what makes Glacier so special.
St. Mary Lake
The dramatic deep-blue water and neighboring rocky peaks at St. Mary Lake are a spectacle made even more memorable from atop the water. Glacier's second largest lake is located on the park's east side and offers opportunity for exploration beneath the peak of Little Chief Mountain, which casts down near the lake's west end.
Beyond Glacier's Boundaries
Flathead Lake: Flathead's far-reaching clear waters offer ample opportunity to explore by canoe or kayak. Know where to go by consulting the experts at one of the lake's many outfitters, or take a class or tour through Sea Me Paddle.
Flathead River: Originating in the Canadian Rockies, Flathead River is known as a destination for white-water rafting and kayaking, but there are also some more mellow spots to paddle. Consider linking up with an outfitter along the river to get an idea of which route is best suited for you to conquer.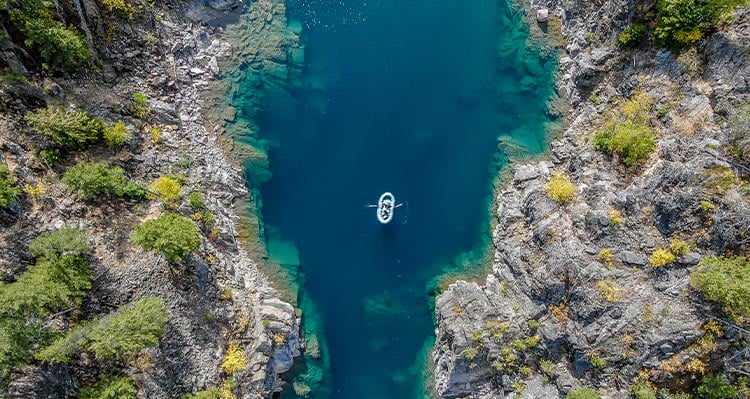 Lake Five: Located about three miles west of Glacier's gates, Lake Five is a popular spot for locals to swim and a prime location for a casual kayak or canoe excursion. Private houses, cabins and campgrounds occupy the lake's perimeter, which gives a more vibrant, lively feel when compared to some of the more secluded spots in the area.
Tally Lake: Dense forested shorelines give way to dark, calm waters on this deep Montana lake. Just a 30-minute drive west of Whitefish, Tally attracts non-motorized and motorized boat enthusiasts alike, though the size of the lake means kayakers and canoers need not worry too much about disruption. Tally Lake is also notably warmer than many other lakes in the area, making it a great spot for a dip.
Before you tie your kayak or canoe to the station wagon's roof, be sure to get familiar with the required permits and inspection spots — including required cleaning, draining and drying of watercraft and equipment to help prevent the spread of aquatic invasive species. Happy paddling!