It's summer and you've been hiking all day in Glacier National Park, working up a sweat, getting in some big views and breathing fresh mountain air. The weather is perfect—sunny with a light breeze.
When you get back to the car, you're ready for a cool dip in mountain water. So, where do you go?
We've been there! And here we share our top swimming holes for just this occasion. We've listed well known (Waterton!) and locals' secret (Lake Five?) spots, so don't forget to bring your trunks or bikini for that post-park-day dip.
Here's where to go…
If you're up north:
1. Bowman Lake
Drive up the North Fork of the Flathead River drainage to the much-loved, rocky Bowman Lake beach, which offers views deep into the Hole-in-the-Wall area of Glacier National Park. Around the beach are picnic areas, bathrooms and other facilities. And, like most glacial water in northwest Montana, the lake is re-fresh-ing!
Bowman Lake is a perfect stop after a North Fork-area hike, but be aware that in peak season, the road may be closed when the parking lot hits capacity. If that's the case, backtrack to Polebridge Mercantile for a snack and a beer while you wait for others to head out.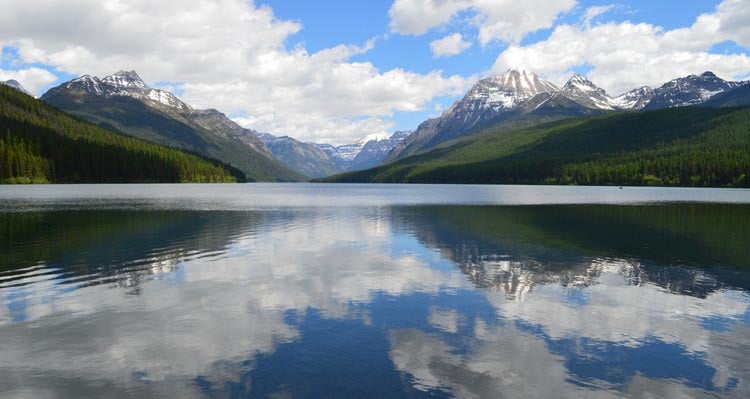 2. Waterton Lake
Find yourself in the Goat Haunt area of Glacier, or crossing the border at Chief Mountain after a day on the east side? Don't miss the chance to stop at gorgeous Waterton Lake in Canada.
The lake runs north/south across the US/Canada border. At the south end of the lake you can refresh after a backcountry hike in total solitude. From the northern Canadian side, enjoy the town of Waterton while kayaking, swimming or paddle boarding. And take our word for it: splurge on a night at the luxurious Prince of Wales Hotel, with full Waterton Lake vistas for a post-dip indulgence.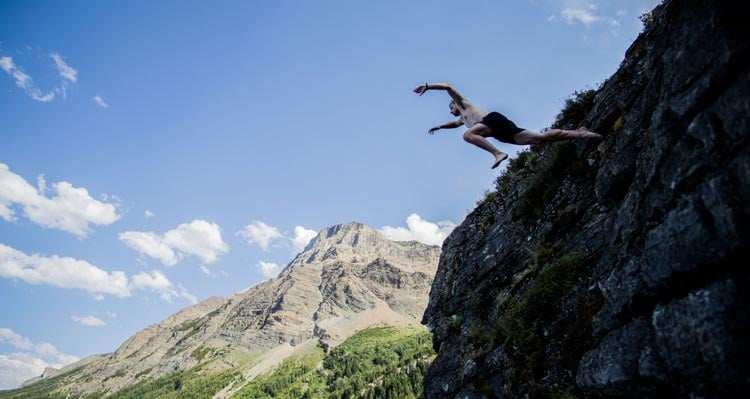 Near West Glacier:
3. McDonald Creek Float
In Montana, floating any river is one of the best ways to spend an afternoon, and really, why not? Pack a little cooler and park it on a float tube for a few hours in the sun—it doesn't get any better than that.
The best spot to start the McDonald Creek float is at the Apgar Village Lodge and Cabins at the foot of Lake McDonald. You can take out at the Quarter Circle bridge just before the confluence of the Middle Fork of the Flathead River.
4. Lake Five
Driving Highway 2 toward Glacier National Park from Columbia Falls, you'll see a green sign on the roadside that says "Lake Five," with an arrow. Hit the brakes, take a left and pull in—it's worth it! This little-known spot has a few docks, gets great late-day sun and is a sweet crowd escape.
Heading to Whitefish:
5. Les Mason
Instead of the usual City Beach shenanigans steps from downtown Whitefish, we suggest you drive north around Whitefish Lake a bit further to Les Mason State Park. It's a gravelly, dog-friendly beach with a few docks and picnic tables. More rustic than City Beach, Les Mason is a great spot to jump in the lake and soak in the sun.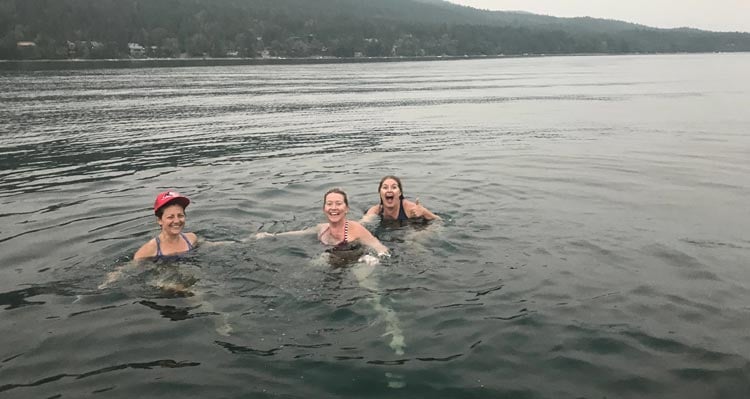 Summer in Montana means long days, epic adventures, and relaxing by beautiful mountain lakes. Inspired to come stay? Check out lodging in and around Glacier National Park and come play with us.