Welcome to the world's first transboundary dark sky park. Each night, the setting sun blankets the wilderness of Glacier National Park, transforming the remote landscape and striking visage of soaring peaks into a sweeping canvas of stars.
From Logan Pass to Lake McDonald, visitors with even the most basic telescopes can witness the vast labyrinth of planets and constellations. Nighttime presents a side of Glacier that's just as vivid and awe-inspiring as its famous daylight counterpart.
Glacier Park is well known as a hiker's paradise, but it's increasingly becoming a destination for stargazers seeking an unrivaled perspective. Glacier is home to some of the darkest skies in the world, a unique designation that became official in 2017. The International Dark Sky Association named Glacier Park and its Canadian counterpart, Waterton Lakes National Park, the world's first transboundary international dark sky park.
Glacier, Waterton and its partners, including Glacier Park Collection, have been global leaders in protecting the natural night sky from light pollution and raising awareness about dark skies as a critical natural resource. An estimated 80 percent of the United States' population lives in an area without the ability to see a true dark sky, and only one-third of people around the world can clearly see the Milky Way.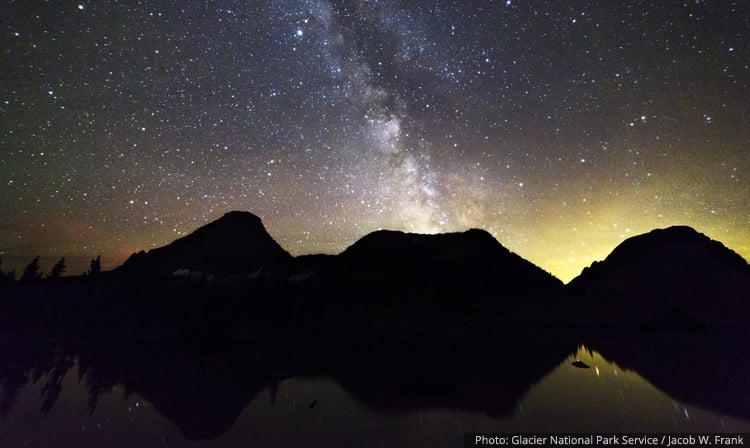 In order to protect the darkness and maintain the designation, the National Park Service and its partners were required to follow strict lighting standards and ensure at least 67 percent of the lights within Glacier were night-sky friendly.
Glacier Park Collection has been a longtime partner in this effort and helped the national parks achieve the recent honor. At its various facilities in and around the parks, Glacier Park Collection has followed a policy of only using outdoor lighting when necessary, and those lights are only illuminated to a certain degree. All lights are also shielded to ensure illumination is pointed downward.
"We've always considered ourselves a steward of these wonderful, iconic, unforgettable places that we own and operate in and around Glacier National Park," Ron Cadrette, vice president and general manager of Glacier Park Collection, says. "We want to be a good neighbor and a good steward. Those are the two core values that we have embraced. We've been very mindful of dark sky best practices."
Dark skies are vital for human health and enjoyment but also play an important role in the landscape. Unnatural light can disrupt migration and other natural processes, putting wildlife at risk. Night skies are also important culturally and are prominently featured in regional tribal creation stories."
In a time when one third of the world's population can no longer see the Milky Way, protecting this resource is essential," Glacier National Park Superintendent Jeff Mow says.
To showcase the stunning night skies, Glacier Park rangers host popular viewing events during summer at various locations. From just about anywhere in the park, visitors can witness thousands of stars, planets and galaxies. Another popular activity involves cycling or driving up Going-to-the-Sun Road at night, experiencing the spectacular view of a full moon or the meandering northern lights.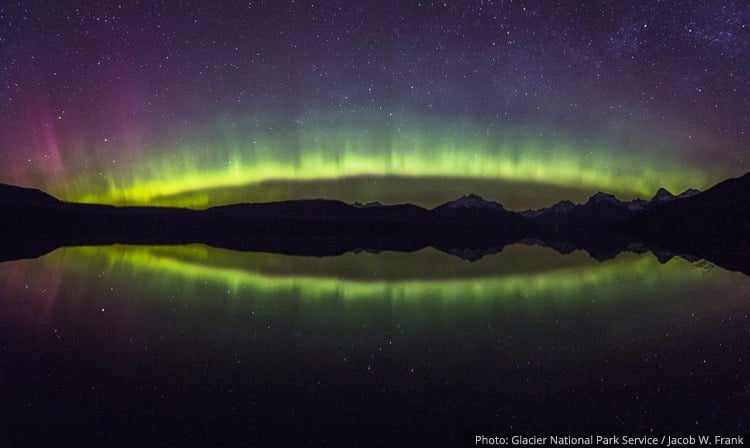 The dark sky designation further bonds Glacier and Waterton, which stand out as world's first International Peace Park. Now the sites are setting another global precedent.
"In the spirit of the peace park and its history, we're especially pleased that dark skies are a shared resource that furthers the sense of amity and goodwill between the United States and Canada," International Dark Sky Association Executive Director J. Scott Feierabend says. "The new Dark Sky Park is the embodiment of the sense that all of humanity shares just one night sky that knows no limit at international boundaries."