Here's where to see and be seen. Every town, every village, has 'those spots'. The ones nobody ever tells you about, but everybody seems to know about. Where the locals go in their free time. Where people just seem to gather. The small village of West Glacier is one of those places. And it's got 'those spots'. We're profiling some of those spots in this series.
Here's what we're talking about:
The Belton Bridge aka "The Old Bridge"
"Oh, that's definitely the hangout spot," says Caiti Woods who grew up in West Glacier and now works for Glacier Guides.
The historic Belton Bridge was built in 1920 over the Middle Fork of the Flathead River. For decades, it was the primary entrance into the Glacier National Park. These days, it's closed to vehicular traffic. And that makes it the ideal spot for some good old fashioned 'hanging out.'
In 1987, Todd Ashcroft, Location Manager for West Glacier, did like almost everybody who comes to West Glacier for the summer—he jumped off the "Old Bridge" his first summer here. Doing so has become the defacto initiation rite for seasonal staff in the area. The height of the jump depends on the water levels, and varies over the course of the summer.
"It's a lot further down than you think," he remembers. "And man, the water's cold!"
Caiti Woods agrees it's a big jump. "I've only done it a few times. It's a little high for my taste!"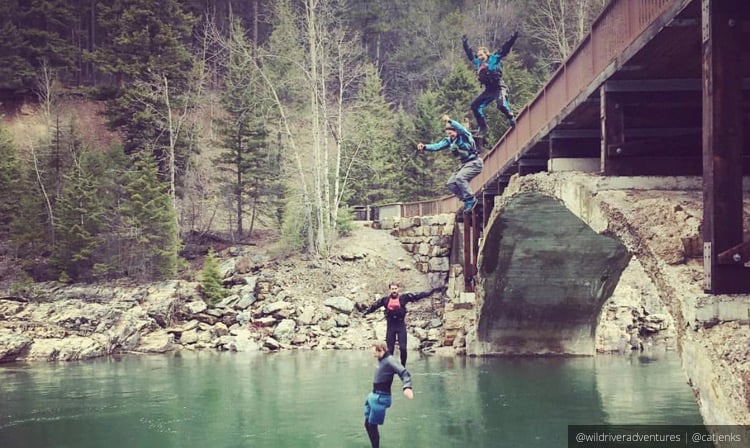 And if you're not into jumping, you still ought to come hang out here. It's a mix of relaxing, laughing and soaking up the best of summer in Glacier. There's a rocky beach under the bridge where people sprawl out on their beach towels sun-tanning. People are fishing, heckling the rafters as they paddle by, relaxing with a beer. Woods says it's where people go to wind down – especially on a hot summer day.
After hiking or working all day, locals come here to put their feet in the water, stretch out in the sand and to 'chill', she says.
The Belton Bridge also marks the start of the classic Boundary Trail Hike. It's survived nearly a century of wear and tear—including the floods of 1964, when it was reinforced with a wooden trestle.
Next time you're in West Glacier, be sure to ask to be pointed to the Old Bridge—especially if you've been hiking or adventuring in the hot sun all day. Head over later in the afternoon. Bring your sunscreen, a cold beverage and your courage. Then, you too can join the list of people who've made the big jump.
Come visit us in West Glacier. See you at the Old Bridge!