Flathead Magic: Celebrating 50 Years of Wild and Scenic Rivers
What a view. What a place. From the deck at Sally and Rich Thompson's house, on a slope just above the village of West Glacier, views stretch across to Apgar Mountain, the Belton Hills, Snyder Ridge and the basin where Lake Mcdonald is.
You can't actually see the Middle Fork of the Flathead River—that beautiful ribbon winding its way from the Crown of the Continent along the edge of Glacier National Park towards Flathead Lake. But, in the mornings, Sally says you can see a light layer of mist that gathers above it.
Sally and Rich know this river, the Flathead, intimately. Rich was born here in West Glacier in 1948 and spent his entire childhood relishing in the Middle Fork. Sally got hooked a while later, as a young adult enthralled in the gonzo early days of river rafting on the Flathead, and she went on to run a business and raise her family here.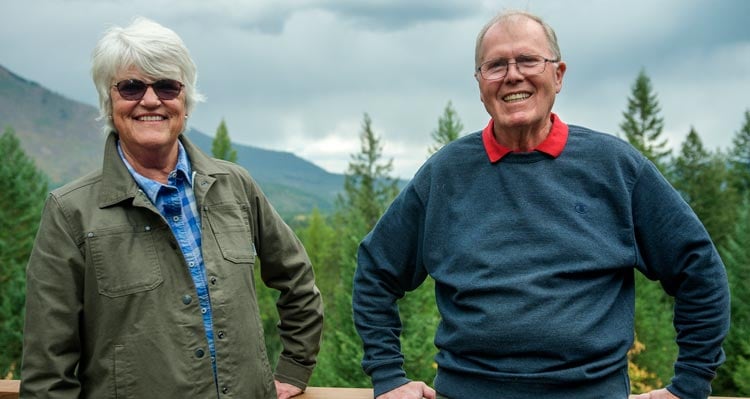 Today, they're retired with a deep passion for advocating on behalf of the Flathead River—and for sharing its stories.
Their home, decorated with a slew of archives about the river—old photos, VHS tapes, a gorgeous oil painting of the upper reaches of the Middle Fork and an historic and giant map of the drainage—really celebrates this place. The Thompsons are an example of people connected to the world around them. And what a place!
Meet the Middle Fork of the Flathead
The Middle Fork is one of three tributaries that form the Flathead River. Its source is high in the glacial streams of the Bob Marshall Wilderness, which is attached to Glacier National Park.
This is a river that moves people because of its wildness. Since it was officially protected under the Wild and Scenic Rivers Act 42 years ago, it's become one of the hallmarks in the US for a clean, clear and untamed river.
And that's worth celebrating.
Celebrating Wild and Scenic Rivers
Throughout the summer of 2018, community members in Glacier Country of northwest Montana came together to highlight the importance of this river, and to mark 50 years since the Wild and Scenic Rivers Act came into being.