Nothing says "camping" like a good old campfire cookout!
After a long day exploring Glacier National Park, you've worked up an appetite and want something hardy and delicious. Campfire nachos are quick to prepare and easy to cook. Plus, there are endless customization options!
Everything you need for this recipe can be picked up in the West Glacier Mercantile. Bring the kids along to help choose some of the ingredients!
What you'll need:
Access to a campfire
Dutch oven or medium cast iron skillet
Oven mitts
Tortilla chips
Enchilada sauce (regular salsa works too)
Lots of cheese
Optional: red/white onions, green onions, olives, corn, tomatoes, green chilies, jalapenos, beans
For serving: Blaine Mountain Salsa, guacamole, cilantro, lime, sour cream
First, get the campfire going so the coals have time to heat up. Once that's taken care of, it's time to prep the nachos. Pour half of the enchilada sauce or salsa into the bottom of the dutch oven so it covers the entire surface. This will create moisture that will bake into the dish and give your nachos plenty of extra flavor.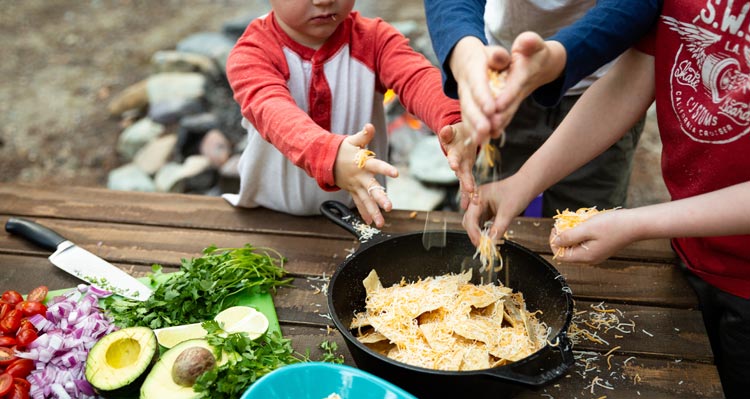 Next, begin layering the chips and optional ingredients until the stack nearly fills the dutch oven. Top your creation with one last layer of sauce, then cover and set into the coals of the campfire. Make sure to place directly in the coals and away from the open flames.
Let the campfire work its magic on your nacho creation for 10–15 minutes. Be careful when removing the dutch oven from the flames so you don't burn yourself—it will be very hot! Uncover and let cool for a few minutes.
Once the dutch oven has cooled down, top it off with Blaine Mountain Salsa and any other remaining ingredients such as guacamole and sour cream. Dish the nachos onto some plates and voila!—you're ready to dive in.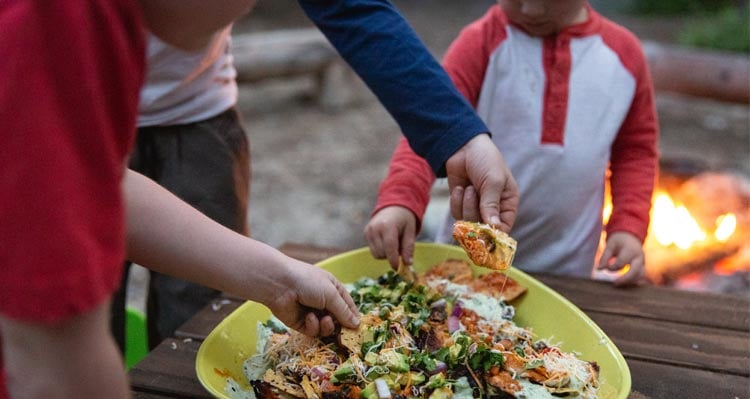 Remember to practice proper fire etiquette whenever you enjoy an outdoor campfire. Be mindful of area-specific fire bans and only start fires in designated areas. Never walk away from your campfire—if it's too hot to touch, it's too hot to leave unattended! And be sure to clean up and not leave any food out for wild animals.
Do you have a favorite campfire recipe? Share it with us on social!