From mornings spent sipping coffee and watching the sunrise to action-packed days that call for a grab-and-go meal, tracking down the right breakfast for your Glacier adventure is crucial.
Fast, rustic or caffeinated — whatever you're craving, we've got a breakfast spot to suit your taste. And everything is delicious, of course — we wouldn't recommend anything that wasn't approved by the locals.
Here are our favorite breakfast joints near Glacier National Park:
Breakfast in Columbia Falls: Montana Coffee Traders
Montana Coffee Traders' caffeinated creations have a reputation — so much so that getting in the door on a busy morning can be a challenge. This fan-favorite café offers more than just coffee, though. We love their breakfast wraps and Glacier melts when we're headed into the park. You can also grab a brown bag "hiker" for your lunch in the park. Get there early to beat the lines (they open at 7 a.m.).
Breakfast in West Glacier: West Glacier Cafe
For a classic breakfast before your day in the park, swing into the West Glacier Restaurant. Eggs and hash browns will load you up and give you energy with some traditional Montana flair. Plus, the friendly waitstaff will pour you coffee as fast as you can drink it.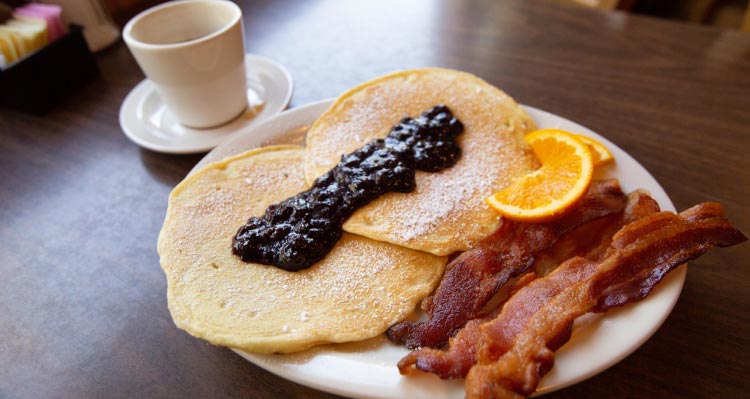 Breakfast in Whitefish: The Buffalo Cafe
'The Buff' — as locals have nicknamed the place — is full by 10 a.m. with a wait. We suggest showing up early after your stay at Grouse Mountain Lodge, ordering the huevos rancheros or buffalo pie for a hearty meal, then heading back out the door by 9 a.m. Or, come by the day after a hike for some buttermilk pancakes (available until noon) and a huckleberry milkshake and stay awhile. Nothing says "vacation" like ordering ice cream for breakfast.
Breakfast in East Glacier: Great Northern Dining Room
Mornings at Glacier Park Lodge start in style at the gorgeous and historic Great Northern Dining Room. With views stretching across the valley to Dancing Lady Mountain, you can enjoy the extensive buffet or opt for something à la carte as you prepare for your day's adventure.
Bring your appetite for eggs your way with local sausage and potatoes, or French toast topped with huckleberry compote. Lighter breakfasts like avocado toast, house-made granola and seasonal fruit are great options too!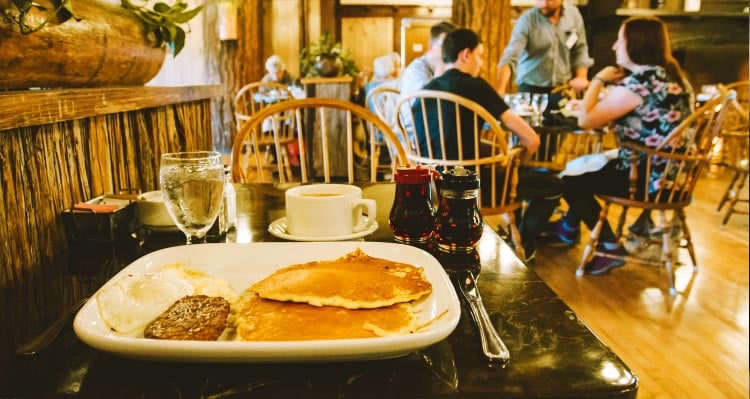 Breakfast in Essex: The Dining Car at The Izaak Walton Inn
A great bet if you're heading from West Glacier to East Glacier or vice versa is parked right outside The Izaak Walton Inn. Stop off Highway 2 at The Dining Car for omelets, eggs benedict and breakfast sandwiches made with local Flathead Valley meats, produce and dairy.
Breakfast in Polebridge: Polebridge Mercantile
One word: Huckleberrybearclaws. Okay, three words that you say so fast when you order, it turns into one. We KNOW how bad you want a homemade huckleberry bear claw, so make the stop on your way to Bowman Lake or other northern Glacier National Park adventures and grab one before they run out!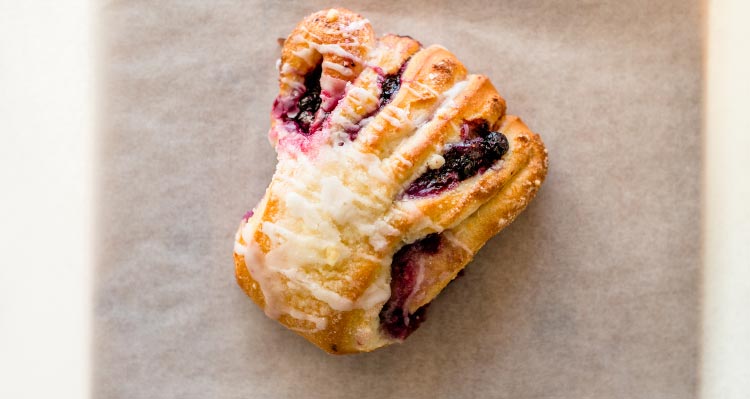 Get a Room in Glacier
From cabins at Apgar to Motel Lake McDonald, the west side of the park has plenty of lodging options where you can rest your head before the sun rises. Get in touch with an expert trip planner to see which rooms are available for your trip.