Stretching across northern Montana's Glacier National Park, you'll find one of the most breathtaking mountain parkways in the U.S.: Going-to-the-Sun Road. And for a short window of time, this famous 50-mile stretch of highway is open exclusively to cyclists. Make the most of this once-in-a-lifetime opportunity to enjoy spectacular scenery at a two-wheeled pace.
One sure sign of spring's arrival is that first carefree bike ride of the year. But in some parts of Glacier National Park, winter lingers for a little while longer. Logan Pass—the highest point of Going-to-the-Sun Road—sits at an elevation of 6,646 feet and sees snow most months of the year. It's usually not until at least late June that the road is plowed clear to allow vehicles through.
But before full access is permitted, cyclists are invited to enjoy the road all to themselves. No cars, no crowds—just you, the road and the epic views emerging around every dip and bend. And with new advances in e-bike technology, this unique experience is accessible to beginner and moderate level bikers.
Getting There
To get your adventure wheels rolling, Glacier Outfitters in Apgar Village has everything you need before setting off. Take your pick between fleets of standard road bikes, hybrid bikes and electric bikes (also known as e-bikes). Not sure whether to go with an e-bike or a road bike? Check out this handy guide to get you started. Be sure to confirm the lifespan of your e-bike battery to stay within your abilities and avoid any unpleasant extra peddling on your return. Remember to come prepared with appropriate outerwear, plenty of water and a delicious lunch. And don't forget your bear spray!
All bike rentals are available with a variety of vacation packages offering both bike rentals and hotel rooms. Take your pick from various Montana properties near Going-to-the-Sun Road, including Motel Lake McDonald and Apgar Village Lodge & Cabins.
Sights to Stop For
While biking the entirety of Going-to-the-Sun Road and back in one day isn't feasible, there are plenty of beautiful sights and stops on the recommended route between Avalanche Trailhead and Logan Pass. To complete this 60-mile round-trip journey, allow for a full day on the road to take in the sights, enjoy the experience and truly soak it all in.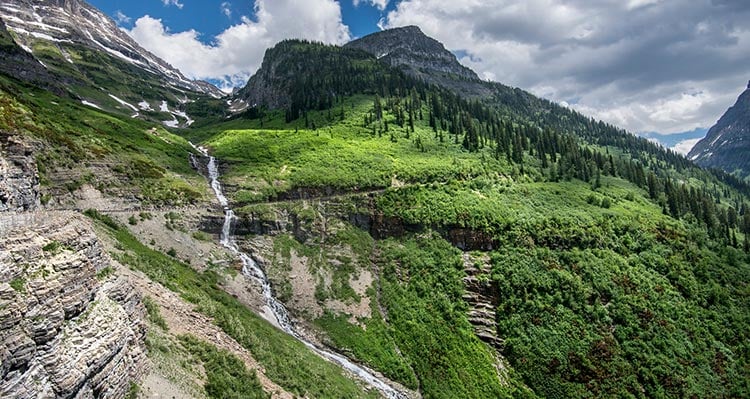 After starting your route from Avalanche Trailhead, you'll climb the road's single switchback through sparse, burnt trees—the result of a wildfire from 2003. Keep your eyes peeled for wildlife sightings. Mountain goats and bighorn sheep are frequently seen in the Logan Pass area, and you may even spot a grizzly bear. From the highest point on the road, Logan Pass sits along the Continental Divide and hosts stunning views of mountain vistas and alpine meadows.
For keen bikers, adding another five miles beyond Logan Pass will bring you to Jackson Glacier Overlook. Much like the rest of the route, this roadside viewpoint offers stunning views of the Rocky Mountains' geographical features without ever leaving the asphalt.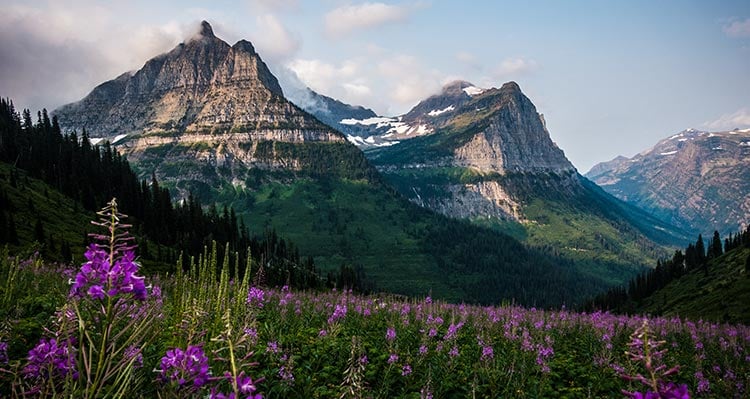 Ready to start planning for this bike adventure? Check out Spring Biking Packages to get great deals on bike rentals and lodging during your stay in Glacier National Park.