In the heart of northwest Montana, where rugged landscapes and pristine rivers meet, there resides a story of compassion and dedication that transcends the boundaries of business and community.
In September 2023, Glacier Raft Company partnered with Flathead Lake Lodge, who once again opened their grounds to host Week of Hope in collaboration with HopeKids. For many years, Glacier Raft Company has supported this important community initiative by providing rafting trips.
At Glacier Raft Company, part of Pursuit's Glacier Park Collection, our commitment to the natural beauty of our surroundings isn't limited to providing thrilling adventures on the Flathead River. It extends to the essence of our Promise to Place — ensuring that everyone, regardless of their circumstances, has the chance to experience the wonder of these rivers.
Week of Hope invites critically ill children and their families to explore, play and enjoy the great outdoors. The lodge became a haven for 16 children and their families in 2023 — to savor precious moments, go on new adventures and weave beautiful memories together.
We caught up with Natalie Burton, reservations and lodging manager at Pursuit's Glacier Raft Company, who was among staff members who volunteered during Week of Hope.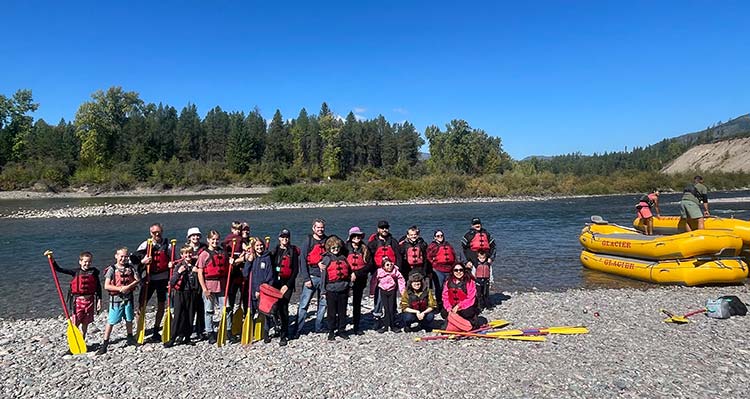 What inspired the team to support Week of Hope? How does it align with our Promise to Place?
Glacier Raft Company has a long working relationship with Flathead Lake Lodge. When Leona Maneval from the lodge reached out to us, we felt that it was not only a great gesture from a business relationship perspective, but that it also aligned with our Promise to Place values. We believe everyone should have a chance to spend time on our beautiful rivers.
The three forks of the Flathead River are protected by the Wild and Scenic Rivers Act. It states that selected rivers of our nation that "possess outstandingly remarkable scenic, recreational, geologic, fish and wildlife, historic, cultural or other similar values, shall be preserved in free-flowing condition, and that they and their immediate environments shall be protected for the benefit and enjoyment of present and future generations."
At Glacier Raft Company, we see ourselves as one of the many stewards of these rivers who assist those who do not have easy access to their waters to partake in that enjoyment.
What was your volunteering responsibility?
My role was more "back of house" when it came to making this day happen. Leona and I coordinated the time, logistics and any accommodations we needed to be aware of to make sure families felt comfortable and safe.
Is there any feedback you received from the families?
Leona reached out to me afterwards and shared that Week of Hope families had a wonderful time, and that our guides told great stories and were very patient with the children and their needs.
How do you believe community engagement through volunteerism can positively affect your community?
Volunteering allows businesses to stay connected with the wants and needs of the community that we live in. I think it's important to show that our company does not just cater to people looking to explore northwest Montana for a short time, but that we are also here to support residents and help them thrive in our great state. Volunteering is a great way to bring people, who come from all different walks of life, together.
What message would you like to convey to members of your community and local businesses about coming together to support organizations such as Week of Hope?
One of the many perks of living in our great state is immersing oneself in the natural world around us. As Montanans, we hold this gift very dear to our hearts. We know it is by sharing this gift with others that we can continue to safeguard the natural wonders that draw people back to Montana time and time again.
We should continue to support organizations such as Week of Hope, because a place as special as ours deserves stewards to show why our environment is worth preserving. And if we have done our stewardship justly, then we will have passed on that same enamor that affects us all.