Often described as the hidden gem of the Canadian Rockies, Waterton Lakes National Park is filled with incredible adventures for locals and visitors alike. Whether your trip is booked or you need to be convinced, we've got a list of fun-filled excursions to do in this corner of the mountains.
Start building your itinerary today and discover the wonders of Waterton for yourself. From active adventures to tours through the decades, excitement awaits at the Crown of the Continent.
1. Hike with an expert
For those who are just dipping their toes into hiking in the Canadian Rockies, the abundance of trails ranging in difficulty can be overwhelming. Questions may include: Is 1,000 metres elevation too high? How much time should I budget? What the heck is a scramble? Luckily, the guiding team at Tamarack Adventures can help you decide on your next journey and lead you through it. Looking to make your stroll even more unforgettable? Book the Hike + Paint option for some landscape art lessons from local artist Danika Stone during your trek.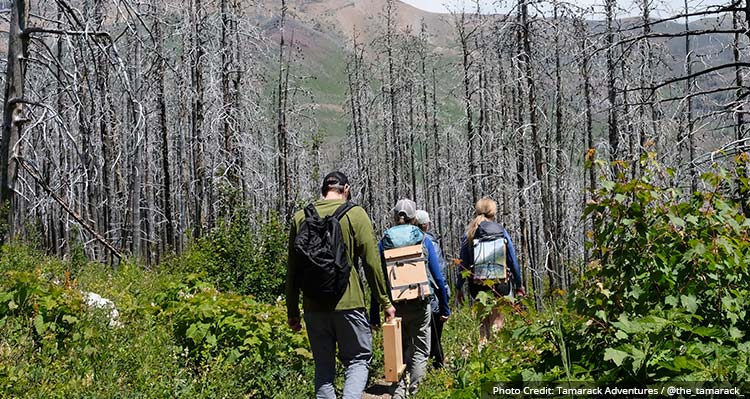 2. Explore Waterton's waters
You can't leave the park without exploring its namesake — the chain of Waterton Lakes. Tamarack Adventures is happy to also act as your guide on their kayaking tours. For a less strenuous water exploration, check out Waterton Shoreline Cruises for incredible sightseeing and Canada-USA border cruises. For the experienced aquatic explorer, you can rent non-motorized boats like canoes and kayaks from Cameron Lake Boat Rentals or Blakiston & Co. to be the guide of your own adventure.
3. Attend a prim and proper tea
Inspired by the British tradition, the Prince of Wales Hotel hosts Afternoon Tea daily from noon to 4 p.m. Indulge in quality teas with a variety of delectable squares and pastries from the comfort of the Royal Stewart Dining Room, overlooking beautiful Waterton Lake. With spectacular views and tasty treats, you're sure to enjoy this scenic spot of tea.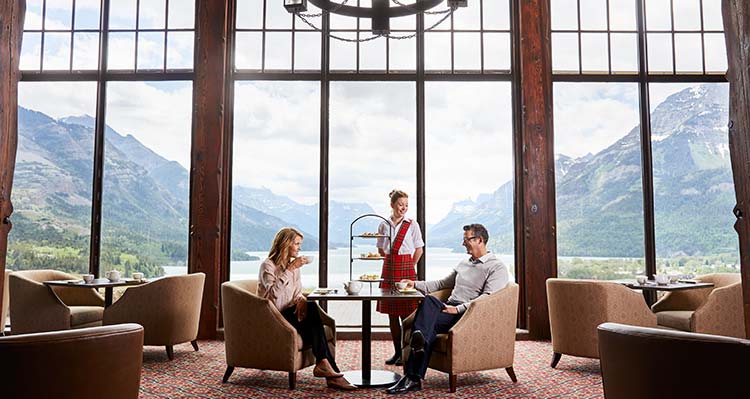 4. Catch the latest blockbuster
After a day spent exploring the sights and sounds of the national park, there are few better places to cozy up and spend a few evening hours than the Waterton Lakes Opera House. This mountain town movie theatre hosts nightly showings in a setting that's brimming with character. Pick up your snack-of-choice, sit back and enjoy the show.
5. See the sights of the skies
This quieter part of the Canadian Rockies makes for perfect stargazing. Experience it yourself with Dark Sky Guides, the only stargazing tours in Waterton Lakes National Park. Using telescopes, binoculars and other star-spotting equipment, these tour guides will deliver a memorable experience. Spot planets, stars, the moon and sometimes even nocturnal creatures!
6. Travel like a cowboy
Giddy up, partner! It's time to explore Waterton with Alpine Stables. Hop on horseback and enjoy scenic, guided trail riding through any number of mountain locations including near Middle Waterton Lake, Bison Paddock, Stoney Flats and more. You can also choose to do full day rides to iconic locations like Twin Lakes, Horseshoe Basin and Vimy Mountain.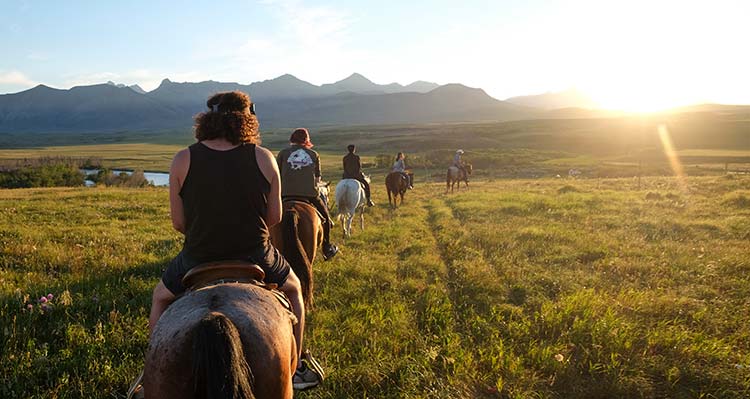 7. Play a round of golf with a view
You've never played a round like this before! Waterton Lakes Golf Course is one of Canada's oldest (and arguably, one of its most scenic) golf courses. Constructed between 1929 and 1939, this 18-hole course is considered both challenging and fun. Like many mountain courses, the scenery is both breathtaking and an obstacle within itself. Prepare yourself for a unique and beautiful game!
8. Cycle around Waterton
This national park is filled with incredible, awe-inspiring roadways that make for a spectacular journey. But if you'd prefer not to use up your gas, you can rent a bike to explore Kootenai Brown Trail and other incredible areas by pedal-power. Head over to Pat's Waterton to rent your bicycle for the day. Here you can also find the world-famous Surrey bike — a full-family cycle with room for two small children in the front and a sunshade above. There's no better way to get around Waterton!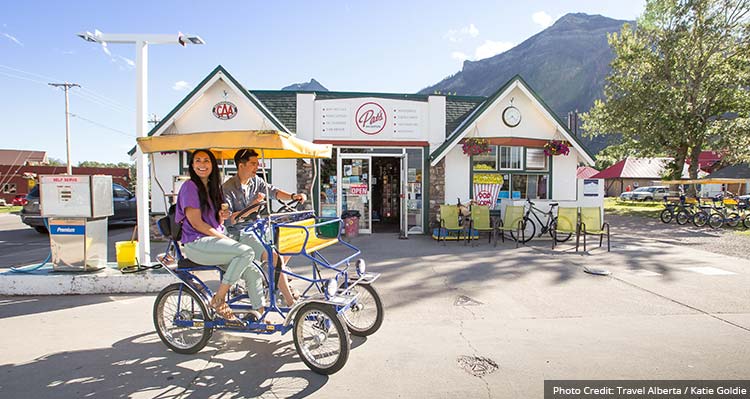 There's much to explore on your next journey to Waterton. From serene sightseeing to thrilling alpine adventures, you're sure to stay busy — and we can't wait to welcome you!